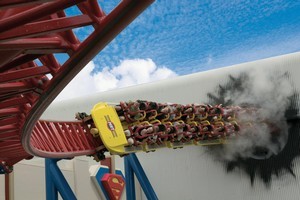 It came as no surprise to me to read in this morning's paper that trips to the Gold Coast are more costly than ever in recent memory, because myself and the family have just returned from five days in that very sunny - but very pricey - spot.

The Gold Coast of my youth - what I heard about anyhow, as I never went as a child - was sun, sand and surf, lots of happy Australians flopping around in jandals and great shopping deals.

The place, from what I can report, is still sunny and boasts a great deal of sand and surf. The Australians I saw were indeed wearing jandals - and, where we spent most of our days, at Dreamworld, an alarming number of them had tattoos on their necks - and everywhere else - to finish off the look.

They seemed pretty happy, although locals told us the area was in the economic doldrums. Certainly the casino and the major shopping malls weren't showing any sign of lack of trade, but apparently there are some 3,000 apartments for sale on the Coast, and only about 300 are actually sold each year at present.

There are still plenty of tourists going, but it was not a cheap destination and the exchange rate is a real killer. We paid in the vicinity of $4,000 for flights, fractionally above-average accommodation for four nights, car hirage and "unlimited" (ie. off-peak) theme park entry. Add to that some pretty obscene food and drink costs while in the parks - $4.90 Australian dollars for a bottle of water, for example - and you can see how it adds up pretty rapidly.


But as we only travel overseas once a year, if even that, and our destination is almost always Australia, I would still say a trip to the Gold Coast - in particular those magnetic theme parks -are a worthwhile outlay of money when going on "holiday"with young children - in our case, a three and almost-five-year-old.

My usual caveat: I'm not of the opinion there is anything such as "going on holiday" with young children - especially internationally. There is a change of scene, an "adventure" perhaps. But a "holiday"in the sense of rest and relaxation? Not so much.

Our 2011 Australian jaunt distinguished itself for actually involving, for the first time ever, flights that didn't make us lose the will to live once we'd got off at the other end. But, inevitably for us, crossing the ditch means children that wake up every morning at 4.30am. Add to that very long days spent going between Dreamworld and Waterworld, getting on and off Merry-Go-Rounds, roller coasters and dodgem cars and up and down water slides. Add to that having to frequently comfort children distraught at being too short to go on the most attractive rides and slides.

And finally, factor in being almost six months pregnant with constant indigestion and backache, and you might see where's all heading..

I realised on the last night, when I tried to seductively call my husband to bed to make up for all the chaste 7.30pm bedtimes preceding it, and he could not physically lift himself off the couch, that things had really taken their toll. Needless to say, about 10 minutes after making the half-hearted offer I was also comatose with exhaustion.

But, when one has young children, there's a certain happiness in having days so action packed that everyone is tired at the end of the day. You may want to scream as you buckle up on the Big Red Car for the Wiggles house tour for the third day in row, but at least all you really have to do is bellow "Fruit Salad, Yummy Yummy" in to your microphone for 20 minutes and try not to look deranged with boredom when your photo is taken at the end of the tour.

And, let's be honest, for someone like myself who has little imagination in the ways of entertaining children, a theme-park filled with fun things to see and do is a great help in keeping the littlies happy.

It is expensive though, so while we are looking to return at some point in the future (probably when the kids have put on a few more centimetres), I think we will make do with the great possibilities here in New Zealand in the next little while. Lord knows we'll probably need several months to physically recover as well!