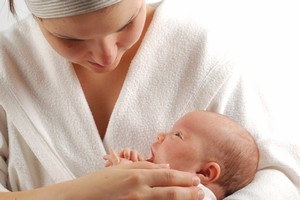 Now that I am pregnant with my third and final child, I am finding time to prepare for the big event (still 20 weeks away) is slim-to-non-existent.
As I say, I do have half the pregnancy to go. However, I am already waddling around like a prized porker, feeling as though my pelvis is coming apart at the seams and my stomach is about to explode. I dread to think how utterly immobile I will be in even ten weeks, let alone 20.
It would be in my best interests to get myself organised now, but there's just too much other stuff to do, such as deal with a delayed case of the terrible twos, prepare for a five-year-old's birthday party and subsequent school start, and get through the current school holidays without losing my sanity, just for starters.
Where did all the time we had to plan and prepare for baby number one disappear to?
The hours spent reading through lists of names, lolling over bassinets and dreamily flicking through racks of nice babywear seemed like an amazingly important use of whole afternoons at that time.
That first experience is difficult to replicate. Second baby - for me anyhow - meant an afternoon at about 35 weeks devoted to clearing out the old and welcoming in the new - which was mostly hand-me-downs from sisters who had already had girls.
Little did I know I actually had another seven weeks in which to get organised. But it was a modicum of effort, however minimal.
Minimal has become subterranean for Baby #3 so far.
We have no names picked out, nothing for the next baby to sleep in - not even a space in the house designated for it.
At the moment, with all the old baby stuff generating a mould collection at the bottom of a closet somewhere, the new baby would have to wear rubbish sacks and sleep in a desk drawer if it decided to arrive too early.
What I need, I have decided, is the services of a 'baby planner'.
Apparently, according to the Sydney Morning Herald, there's a burgeoning industry in the US devoted to helping a woman prepare for her big day - the birth of her first child (or second, or third, presumably). A new reality series is even in the offing about it - Pregnant in Heels.
A la a wedding planner, a 'baby planner' will come in do the things most of us have to find the time to do before our first loinfruit appear - baby-proof our homes, pick out furniture, bedding and clothing, and consult on childcare options - all for between US$50 - $150 an hour.
For the so-called "million-dollar mammas", they'll throw together focus groups to help new mums chose a name for the baby, arrange for hair and makeup at the hospital bed, and draw up a register of gifts that people can peruse before the baby shower.
Okay, perhaps you should be choosing your own names for the baby (by extensively grilling everyone around you for ideas). But as for the other stuff - why not?
I know there will be some wowsers who think women should be doing this themselves, but I'm all for the idea. Especially where women don't have mothers, sisters and aunties around to help them out with these vitals tasks - and where many of them continue to work right up until the last minute to maximise their maternity leave.
I welcome this US export into New Zealand, even though it will be too late for me and I'd probably not be able to afford it anyhow.
Just as an aside, I have already tried exporting another US-based pre-pregnancy rite here - that of being brought a very expensive ring for each child I bear my husband.
Ali wasn't biting, unfortunately, pointing to my modest engagement ring as an example of his huge largesse, but I still live in hope it might catch on the next few months.
In the meantime, I must try and squeeze in some time to get the baby clothes laundered, the bassinet put up and the nappies stocked.
I may not get a diamond and emerald ring for my troubles, but no doubt the baby would appreciate it.