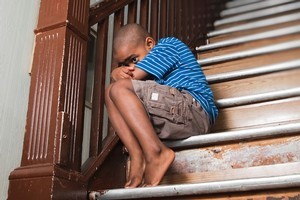 After the horror show that was the Kahui twins' short life and brutal death - and the way the perpetrators got off scot-free, probably to go on and be involved with other young lives - it is understandable that any government would be demanding changes on reporting child abuse.
The gob-smackingly horrible stone-walling employed by the twins' family truly had to be a new low in human behaviour. However, in the context of the lives of these types of families, it's not that hard to explain.
People who are already living on the edge of society anyhow, who don't see anything wrong with unremitting partying, drug-taking, and violent behaviour, will not necessarily see the need to turn one of their own into the police when the inevitable happens.
Even if the person they are protecting was known to bash defenceless newborns to death.
Which is why changes proposed in the Crimes Amendment Bill, introduced by Justice MP Simon Power yesterday, will do little but criminalise people who are already on the margins of society - and probably do nothing to stop actual child abuse.
It proposes that people who know about the violent physical or sexual abuse of a child within a family circle are punished with jail if they don't do their part in dobbing in the abuser.
Absolutely right in theory. But there's no proof that people living within a violent, degraded bubble will be deterred by 10 years in prison for not reporting their errant friends and family members.
That includes mothers, who will also be given much harsher sentences for failing to protect their kids from abuse. Again, a good idea, but there is already punishment attached with failing to keep your kids out of harm's way. That hasn't stopped some mothers from leaving their kids at home with violent, stoned partners who kick their kids to death.
It hasn't meant that some of them don't simply turn up the music to drown out the cries of their littlies being beaten.
These women are simply in survival mode, and don't always trust that they will be protected by authorities if they do escape their homes and partners.
Personally, I would like to see them penalised for choosing to bear a child in a situation they know to be toxic. It's one thing to shack up with someone who turns out to be a thug - another to keep getting pregnant to him.
But throwing them in prison after the fact seems almost pointless - except for the possible side effect of keeping them away from more reproduction for a few years.
Unfortunately the problem is going to require a whole lot more thought than simply adding to our already burgeoning prison population.
The New Zealand Nurses Organisation is right - "until the Government has the courage to address issues such as child poverty, the violence caused by alcohol abuse, the widening gap between rich and poor in this country, and the growing number of people who feel excluded or alienated from participating in our society, then little will change for our most vulnerable citizens".