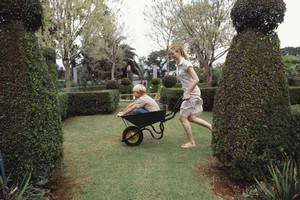 It was only recently, when my eldest was booked into get his "Before School" check up, that I realised that my days as a mostly stay-at-home mum were drawing to a close.
Not any time quickly, of course - my youngest is only 2.5 and if we have another child - and it's a big and heated "if" at the moment - that would throw things back a few years again. But it does mean that by the time I'm 40, one way or the other, my kids-in-nappies days will be over.
For someone who really struggled to adjust to staying at home with kids - and who still feels like the world's crappiest mother quite frequently - it was a shock to realise that I might, one day, miss these slow moving days.
When I reflect on it, I realise the main problem I've had with being at home is not the boredom, or the social isolation, or the loss of a chance at a high flying career.
For me, the real problem has been that I have struggled to understand how to "play" with my children. And when I observe many other mothers in action, I believe it's an issue that many of us multi-tasking mums share.
Cooking, cleaning, wiping noses and bottoms, carting the kids around to various playdates, sitting on Plunket committees and making small talk in coffee groups were all doable - if sometimes joyless - tasks.
But for me it is actually getting down on the floor and taking part in the games of childhood that really push me to the limits of my sanity.
At first it was the repetitive baby games; now it is being asked to be "Heat Blast", "Humongosaur" or "Big Chill".
It's finding the fortitude to sit behind a playdough table and buy 30 imaginary smoothies, or keep my composure as the kids drip paint and water all over the kitchen to produce incomprehensible scrawls.
To my credit, I keep trying. I suppress the urge to scream about the mess, and, biting my tongue, don the tiara and fairy wings. To be fair, I click into my daughter's games a little easier - probably because I grew up with two sisters.
Following my little "Ben 10" around the house and being bombarded with imaginary ice blocks and pumpkins (not sure if this is entirely consistent with the actual story!) has tested every acting bone in my body.
Like many women, I marvel at how easily my husband can slip into the "play" mode. There is something so playful and immediate in the male character that allows him to discard the baggage of schedules and time limits and simply "be" the monkey, monster or clown. For him it's fun and uplifting; for me, its often irritating and tiring.
Of course, he's also the one inwardly chiding the mothers relaxing on the sidelines during child-centred gatherings, and outwardly chiding his wife for being such an ashen-faced killjoy at other times.
Naturally he doesn't complain about the washing being done and the dinner being cooked - only that I'm batting the kids off grumpily as I do it!
It's not all bad, because I am lucky to have a household where at least there is a counterpoint to my incessant pragmatism in my husband.
But the kids still want - inexplicably really, given how bad I am at it - to play with their mummy too.
So, instead of burying myself in the soothing monotony of tasks and chores, I've resolved to try a bit harder to reconnect with that well of imagination that might just get me through those games of being pelted by pumpkins a little bit better!