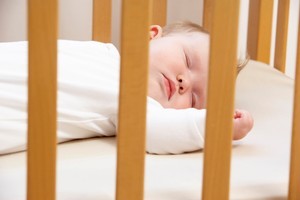 If there was ever a reason to de-clutter your baby's cot, it's come in the form of some alarming news about cot "bumpers" in the US this week.
While New Zealand mums don't often use them - they are frowned upon by Plunket amongst many others - it now seems those pieces of foam padding designed to keep kids on their backs all night actually don't work with some babies - and may actually end up causing their suffocation.
"Sleep positioners" as they called in the US have been implicated in the deaths of 12 babies, leading to official warnings to steer clear of them.
While few of us use cot bumpers here, it's a timely reminder for us all to keep our baby's cot as clear as possible.
You still see babies put to sleep with all sorts of cuddly toys and other baby paraphernalia near their heads and wonder how they manage to make it out each morning without, at the very least, mouths full of fluff.
Of course, as we now know, even a clear breathing space and lots of back sleeping won't necessarily protect a baby from cot death - although the back sleeping in particular has led to a radical reduction in deaths from the affliction in the last decade.
Parents know more about helping prevent this devastating condition than ever before. They know, not only to put babies on their backs, but to also try and avoid soft sleeping surfaces, loose bedding, overheating and bed sharing - particularly where parents have been drinking or are smokers.
But the currents research indicates there is little parents can do to fully inoculate themselves from this most cruel occurrence.
The leading hypothesis at the moment is that the babies affected have an abnormal or delayed development of a specific area of the brain which makes their "arousal" slow.
In a 'regular' baby, when the infant moves into a position where his or her nose and mouth are covered, the level of things like carbon dioxide or oxygen in the blood changes and somehow triggers a reflex in the child to move his or her head away form the obstruction. In a select few, the reflex either doesn't kick in or develops too late.
This may be just one event in a chain of many - and it's just one theory of many. It's cold comfort, of course, to the 60 or so families that have to deal with the cot death of their beloved baby each year.
And it will do little to quell the fear that most new parents have about cot death, no matter how relatively rare it is.
It is still the biggest killer of babies between the ages of a week and 12 months - inching ahead of, but only just, our shameful statistics for babies murdered in their homes during their first year of life.