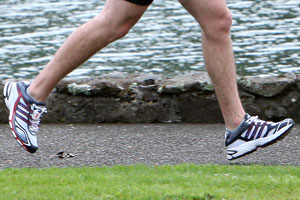 My husband caused a ripple the other day by cheerfully piping up, to an assorted collection of my friends, that he had taken up running recently because he wasn't getting enough sex.
Perhaps he had been inadvertently fishing for a male response: hearty, knowing laughter. In fact, what he was faced with was knowing head nodding.
And then, a couple of women saying: "Oh, I reckon that's why XX has started running too!"
In fact, I had long wondered why Ali had embraced running with such vigour. Like most people of Asiatic decent he didn't really need to look younger or leaner.
Previous attempts had ended in a vast array of injuries which had put him, literally, on ice for weeks.
But this time, with a new set of running shoes and some thankfully less revealing shorts (his last pair, short and bright green, were bought from cheapie teen girl fashion mecca Supre and left nothing to the imagination), he was doing regular circuits - of ever increasing lengths - of the neighbourhood.
"It's the endorphins!" he will beam at me after he finishes his fun and limps in to do his recovery right next to me, noisily, so that I can admire his athleticism.
"The endorphins make you calm and relaxed all day."
"Is it like sex?" I ask, being unacquainted with any form of physical endeavour.
"Probably better" said he - accompanied by the look of "but you're not off the hook yet!"
Suffice it to say, Ali does see more action than the Sisters of Mercy. Just.
But he's not seeing as much as he did, say, 5 years ago - like most men in his position. Which could be a problem if he was devious or adulterous, but I don't think he is.
He'll just outlay a small fortune on the latest running shoes - and pound (ahem) the pavement.
Hey, we live in an area with lots of young families.
He's got a lot of company from fellow fathers on his runs out there!