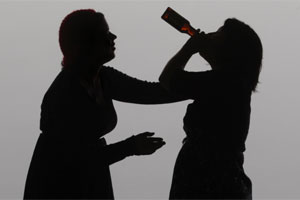 How I wish the eminent businessmen Michael Stiassny and Graeme Hart would spend their scant spare time doing something more useful than engineering a law-abiding party where their precious offspring can drink alcohol.
How fabulous for their children that they know the Sale of Liquor Act better than anyone else. But do their children - who are probably already free to drink in moderation - really need the added might their rich businessmen daddies can bring to these school-related events?
From my vantage point - admittedly not having yet to deal with the mixed blessing of teenagers - it seems that ball season is completely out of hand. And it is being actively aided and abetted by parents.
This weekend, I found a small pocket of time in which to purchase a dress for upcoming social events. In the shop where this frumpy mum-of-two was perusing her (severely limited) options, dozens of teenage girls teemed with their mothers, buying dresses worth several hundreds of dollars.
When I said to my mother in law "we must be in the thick of school ball season", one harried mother turned to me and sighed.
"Yes" she whined. "I thought we'd be fine looking for a dress many weeks before our ball for [a wealthy zone girls' school] ball coming in a few weeks - but there's almost nothing left!"
She had to get back to the matter at hand, however, helping her daughter in and out of several jewel encrusted, satin jobs, none of which would have come in under $600. And that's before the shoes, the makeup, the hair, the handbag ...
Am I older than Methuselah, or is there really something wrong with the modern obsession with giving our kids an "adult" night out for a school ball, for crying out loud?
I admit that looking back at my own school ball pictures is a deeply distressing exercise in remembering what a dork I looked like, but in truth, almost any woman will eventually look back on her own youthful fashion faux-pas with horror.
Even the young women who now get facials, pedicures, all-over tans, dresses that require mortgages to purchase and hooker high heels will eventually turn their noses up at the whole thing.
And when our children do have such a problem with underage drinking, do we need to add mummy and daddy-sanctioned alcohol into the mix?
My parents allowed us wine with dinner from quite a young age, in the Italian fashion - but would have cut off their right hands before being forced to watch their children imbibe at a school function.
Parental disapproval of drinking - which seemed to be far greater in those days - didn't stop underage drinking, it is true.
But this kind of school ball after-party where parents are dragged out to watch their young kids drink is a completely artificial, nonsense scenario which doesn't actually encourage good alcohol habits either.
The message these parents are sending clearly this: we think you are right - the after-ball won't be as much fun without alcohol. So we'll move heaven and earth to ensure you can.
Wow, at a time when teenagers have a serious problem with moderating their drink, what a fantastic message to be sending.