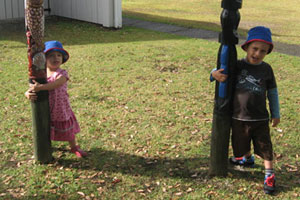 When is an Easter break not really much of a break?
a) When you are accompanied by a two-year-old and a 3.5-year-old.
b) When you have to get up every morning at 5am.
c) When you look as though you've aged five years on your drive back into town.
d) All of the above.
Paihia. Lovely, picturesque, history-filled Paihia. Ali and I, not being the most intrepid types - especially when it comes to carting our kids around - decided on a three-night break in this lovely little town over Easter.
Last year our "annual holiday" saw us spend three days in Rotorua (admittedly we don't get out much!). It was a great, albeit pretty expensive, place to take very young children, with lots of attractions that maintain their interest.
We are avid New Zealanders and want to contribute to the domestic tourism industry; and besides, we cannot face flying anywhere not strictly necessary with our little darlings.
So, as outlined before, and to take advantage of the dying days of summer, we trekked north on Good Friday to park ourselves in Paihia where we had enjoyed so many sojourns in times past.
The journey up was fair enough for a public holiday and everyone had a very respectable one-hour nap when we got to the hotel.
The sun was shining and we skipped down to the beach and played in the surf. So far, so good. Even having to drag "gourmet daddy" to the rib shack for dinner was painless enough, and the kids went to bed full and seemingly happy.
It is of course when the sun goes down that the problems start and this was no exception. The two-year-old is too old for a cot, really, but not quite old enough to stay the night in a bed.
Our sleeping configuration was one queen bed and two fold out beds. We thought - stupidly - that the kids would happily slumber in the double bed and at the appropriate time we would simply transfer them to the single fold outs.
Needless to say, the usual layout each night was mummy and daddy on single fold out, 3.5-year-old in queen bed, and two-year-old in port-a-cot after leaping out of the bed 10 times in the first hour of "sleep".
When mummy and daddy weren't sharing a single fold out, daddy was in the queen bed with one pretty stocky two-year-old snoring on his sternum and a 3.5-year-old with his knees and elbows on a night-long collision course with daddy's head.
As we all went to bed together at 8pm each night, not willingly but because the adults were half-dead, it's a lot of time to be trying to extricate yourself from under a sweaty toddler.
Then of course there was waking up time: 5am almost every morning (which was probably 6am to be fair because of daylight saving) but still much earlier than home wake-up.
There was also at least two hours of trying to keep the kids quietly amused through religious programming before their excruciating kids' programmes started.
Once both parents were bleary-eyed and awake, the next question was this: "it's 7.30am in the morning. How are we going to occupy ourselves today?"
For our first full day the answer was Paihia's famous adventure park. Which - word to the wise - probably isn't the best choice for kids so young.
Our son cried when he couldn't do the trapeze. He sobbed when we wasn't allowed on the high-wire. He moaned about not being able to scone someone on the gladiator pole. Naturally, the trampolines and bouncy castles, two things he could do, he wanted no part of.
The most fun we had was sending forth our sacrificial lamb - daddy - to half kill himself on a highware caper. I must admit my pelvic floor muscles got a great work out watching him plummet down the high rise, adult-only bouncy castle, and a bit further down the track they were equally exercised seeing him try and master the junior trapeze.
But eventually daddy became too tuckered and stopped being our performing monkey and we had to slink off home and try to fill in our going back and forth to the playground. And back and forth. And back and forth.
The next day, we were the first and practically only people on the ferry to Russell. We were there before anything opened and had to mooch around until the museum opened. Once the museum opened we spent about 10 minutes exploring it before heading back on the ferry!
For our final night we decided to treat the kids to the buffet, as most kids love the experience of being able to chose whatever they like.
Ours of course made straight for the sausages and practically ignored everything else. On my third trip taking my son to the toilet during dinner I was so knackered I accidentally took him to the men's loos, and asked him to please hurry as I wasn't supposed to be in there. That of course set off a conversation about the birds and bees, about girls and boys.
When my son returned to his dinner he informed the entire restaurant that daddy would have to get his meal from now on "because daddy's the only one who can because he has ballies and mummy doesn't have ballies so she can't".
If only "having ballies" meant someone would be the one doing all the dogsbody work - unfortunately it doesn't always seem to work like that!
And so it was over - our "holiday", and we limped back into Auckland on Monday looking significantly older than when we left (and only slightly wiser).
It was then I realised something: I can't stand people who have fuss- and stress-free holidays with their young children.
Those who can always find something fun to do; never fight with their significant others, and generally love the wonderousness of being together.
Luckily for me, I am convinced that group is the definite minority!