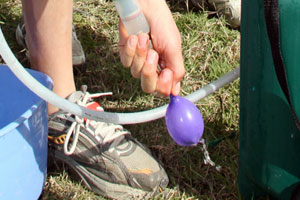 A pox on Ian Grant!
Well not really. He's actually pretty good, writing books with lots of common sense about raising children and having the vantage point of being someone who has raised his own sons and nurtured grandsons (the Y chromosome must be pretty strong in that family!)
Which is also why a book about raising sons by Ian Grant was of some interest when I chanced upon it at the toy library the other week.
To be frank, our son was being extremely difficult and I, in particular, was finding it hard going.
It was the constant aggression that was getting me down, as well as the general pig-headedness. Things like taking him to the park to toss the ball around and him sitting on the ground and refusing to move. Things like demanding I change his shirt when two microscopic specks of milk are to be found on the sleeve. And so on, and so forth.
The discipline is certainly there from me and yet the defiance is certainly there from him! There are many times he is a sweet boy, of course, but when a teacher at kindy mentioned he had an aggressive streak, I knew it was time to step it up a notch.
Whatever "it" is.
Anyhow, armed with new determination I aimed to shadow my son as he went about his day, pre-empting his every growly face and bared fang, every shove of his sister and every defacing of important paperwork.
Needless to say, I was exhausted by the effort.
Putting him to bed, I finally lay down to read and hauled out the Ian Grant book. In it, although largely aimed at fathers, was the exhortation to get your sons involved in challenges, games, and basically any activity they could let of steam with.
It came to me like a flash of inspiration. Water bombs! That's what my son needed!
The next day, on a shopping trip I happened across a two-dollar shop I thought might contain materials for my new project.
I had the almost-2-year-old with me, so when the lady yelled out - from the other side of the store - "you want small ones or large ones?" I bellowed out, "small, small!" more focused on ensuring at that point that my daughter didn't do as threatened and bring a whole rack of welcome mats down onto her head.
When I got home and opened the offending articles, I realised I should have been paying more attention. The waterbombs contained therein looked like condoms for rodents, only smaller.
It required the skill and precision of a paediatric eye surgeon just to attach the opening of the waterbomb to the nozzle of the (also tiny) funnel. It required the full G-force of a garden hose to fill the water bomb, with roughly 15 per cent of the water making it into the bomb and 75 per cent running down your clothing. It required extraordinary speed and dexterity to tie the end of the balloon up before the whole thing exploded.
All this, of course, accomplished while two sets of hungry eyes (hungry for waterbombs) witnessed my fumbling at a very short distance.
"Can I have it Mum," would say one.
Then the other "I want it! I want it!".
Constantly.
After 20 minutes of contortions, I had the first two water bombs filled. I said to the kids "aim at me!" One threw her bomb straight into the garden, where it promptly watered the parsley, and the other dropped his at his feet.
Out of 20 waterbombs, 12 actually fulfilled their chosen destiny as vessels of water, while just one actually hit any kind of target.
It was a lesson in futility, water wastage and general annoyance for all involved.
I think from now on I have the perfect idea for my Ian Grant book. I will read it, absorb its message, and then pass it to my husband for him to bring to life!