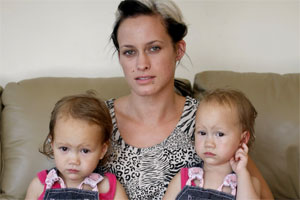 When I read this week how Aimee Moutray was given short shrift when turning up to the airport with two under-twos (twins Arliyah and Janade) on her way to a wedding in Australia, I felt my "mummy-related high blood pressure" rise with the sheer stupidity of it all.
This poor woman who had done everything by the letter was told she could not travel with two kids under two by herself - she needed another adult to fly with the group.
The airline was Jetstar, but I'm sure the same rule applies one whichever airline feels there's a possibility of squeezing a bit more out of its harried customers. And that's all of them.
Anyone who has the faintest experience with infant belts knows, for a start-off, that it is possible to cinch a child to each side of your adult belt for the bare minimum - taking off and landing. Each baby would simply perch on one leg each. Uncomfortable? Yes. But it's not a long way, and even having one child squirming about when you're packed in like tuna is hardly relaxing.
I don't know about others but I would be willing to cinch a child onto my belt if I was travelling solo and the mother required it, and I'm sure there are other fliers who could do the family this basic courtesy if strictly necessary.
The more annoying thing about this tale is that once more, it gives the impression that airlines simply make up the rules as they go along. That the left hand and the right hand don't know what each other are doing. I reckon it is absolutely conceivable that Aimee was told she was ok, that she didn't need another adult, over the phone. $481 return tickets booked, purchased - transaction complete.
To then bump the poor woman and her kids off the flight at 5am the morning she's to fly is beyond ridiculous.
Even worse, a second adult seat to the family was denied - a refund "the only option" - a refund that will take several weeks to prise out of the company, apparently.
It's amazing it's taken this long for the issue of come to a head, really. Many women travel alone with their children. Many women have twins. What in God's name are they meant to do with their multiple kids?
I know there are many who pour scorn on people who take young kids on international flights. They gnash their teeth at unruly brats who make flying hell for everyone else.
But to my mind, there is little left to enjoy about flying in economy class. Service can be excellent but is more often rudimentary; everything that used to make flying exciting now needs to be purchased separately, and behaviour can be equally appalling from adults as from children.
The national or trans-Tasman aeroplane is a bus, or a taxi. Simply getting us from here to there. Airlines should be trying a bit harder to make flying family friendly - you'd think they would welcome the custom.
A bit of lateral thinking and problem solving, rather than blindly sticking to rules that serve little practical purpose, would be most appreciated!
* Dita de Boni
What's your experience of flying - or any other form of travel - with small children? Let us know, and we'll post your comments below.