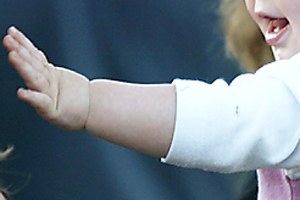 I have talked with many of my friends with young children recently about just how closely one supervises young children.
According to my husband, I'm a bit too supervisory, if that's even a word. This is a man who's first thought on seeing one of our children doing something potentially reckless is "what would Brian Lochore say?"
Because my first thought is always "let's nip it in the bud right now", or, "I haven't heard a sound for 20 seconds, let's investigate", or "hold it right there, buster!", I imagine that somewhere in the middle of us would be a practical and safe state of existence for both toddler and parental sanity.
Which is all to say that I'm fairly hawkeyed - not as bad as some, I might add - where children are concerned - especially my own, and even at our house.
So it was shocking, sobering and ultimately educational for me last week that I stepped away from the kids for about 60 seconds and in that time, my daughter almost lost her thumb.
It was a beautiful afternoon and the kids were both inside the sunroom and outside in turns.
Ali, who was with them, took a call on his mobile just as my daughter was going outside once more. Our house has a backdoor, and a substantial, heavy "grill" door on the outside of that.
I was in charge, but left to retrieve something from further inside the house. I came rushing back when the sound of my husband yelling beckoned.
It's a sound I hope to never hear again from him, and I honestly thought I would be met with a dead child, such was its intensity. I arrived to see my daughter howling, her thumb caught - pinched practically in half - between the door frame and the attached side of the grill door.
It must have been pure agony for her, and as we struggled to pull her loose I really believed we would lose part of the digit.
(My 3.5-year-old was loudly denying he'd had anything to do with it, before confessing that he did indeed do it, and didn't realise it would have that outcome. Neither of us saw him do anything so we decided to try and shut him up momentarily instead of our usual role as lawyers for the preschool prosecution.)
I ran, panicked, to get the liquid soap to try and free her but it was no good.
I then did a "headless chicken" circuit of the house trying to find the screwdriver to remove the door, all the while feeling completely sick. What horrible feeling.
Finally, Ali managed to prize her thumb out of its narrow confines and shot her to the doctor. Not broken, thankfully, and still in tact, though badly bruised, scraped and now sporting more bandaging than the size of her entire 19 month-old hand.
At the doctor's room, all and sundry regaled Ali about how their sons had missing finger tips as a result of doors slamming on them when they were young - quite a common occurrence, presumably.
Daughter is back now, taking panadol and trying to remove her bandaging but otherwise laughing and seemingly fine.
It's minor compared with many other home-based tragedies and injuries, and though I do feel guilty about causing such pain, I am relieved that I don't have a worse outcome to deal with.
However, it underlines just how quickly things can go wrong around the home. Even someone like me, who feels they are pretty good supervisors, can be caught out.
I will continue to play close attention to what goes on, but it's a lesson that as parents you have to master more and more as time goes on - you won't, and can't, always protect your child from the pitfalls of the universe.
- Dita De Boni
File photo / Bay of Plenty Times