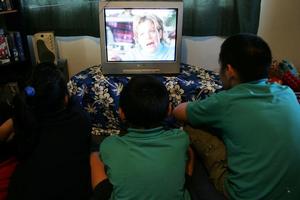 Over the years, some one third of all US children aged between six months and two years have had Baby Einstein videos.
The video products - along with some very lucrative merchandising - sold by Walt Disney claimed to have educational value for children under two years old (despite the fact many child psychologists warn against TV watching in this age group).
The videos feature mesmerising images set to classical music, drawn from the idea that classical music does some pretty impressive synapse-building in baby brains. The scientific verdict is that classical music is certainly good for brain development, while the jury is out on whether that benefit can be conferred through digital means (such as television).
Former US President Bush made mention of Julie Aiger-Clark, the creator of Baby Einstein, in one of his State of the Nation addresses.
Aiger-Clark went from filming children's videos in her basement to - within five years - creating a business making 20 million dollars in sales.
In 2001 she sold the business to Disney and it went on to make $200 million each year.
But the pressure came on Disney to prove the educational claims of the videos in subsequent years and in 2006 the company dropped that particular claim.
In particular, the Campaign for a Commercial-Free Childhood, which filed a complaint with the Federal Trade Commission that accused Baby Einstein of making false and deceptive claims about the educational value of its products, can claim a victory with the news this week that Disney will refund the cost of Baby Einstein videos bought in the last five years.
This concession from Disney comes after recent studies, which confirm that educational DVDs can actually impair the acquisition of new words in the under-twos.
It's easy enough to pillory the parents who bought these videos thinking their children would become brilliant. Parents have been trying to boost their kids' educational prospects for many years. I remember my very young cousins reading off flashcards in the 80s, and even today many babies are taught to sign for what they need long before they talk.
However, there are no external ways to make an average, or even above-average intellect a genius.
As a USA Today editorial says today: "The popularity of Baby Einstein also reflects a misunderstanding about the true nature of genius. Just a little life experience, even a few days in a regular US school, demonstrates that geniuses are usually born with innate gifts that no DVD can impart.
Nurturing lesser levels of IQ or talent takes painstaking, old-fashioned parenting. Plopping junior in front of a TV screen is no substitute... The deeper truth is this. Most parents no doubt understood at some level that Baby Einstein and similar tapes were primarily an electronic babysitter, used while they took a shower or needed a break. And that the real value of the educational claims was that they removed some of the guilt."
Certainly many parents feel guilt about their young children watching television. I for one think about my mother and grandmothers and wonder in awe how on earth they managed without it.
Many of us lie about how much TV our children watch, and console ourselves that "at least" they are watching things like The Wiggles, Numberjacks or ... ahem ... Little Einsteins!
My mother, an English teacher, always told me that being read to is the key to reading well and no amount of TV or video watching could ever create the kind of learning that books could.
In the same way, researchers say that watching TV to encounter classical music is far less effective than, in the first instance, listening to a classical music CD, but better yet, learning a musical instrument.
Far more energy intensive pursuits, of course, than popping in a DVD.
In parenting, there are no shortcuts!
- Dita De Boni
Pictured above: The effect of television on children is hotly debated. Photo / Getty Images