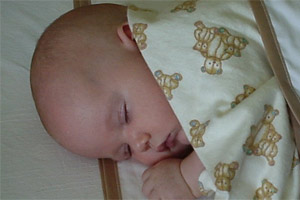 My sister was one of those women who was absolutely terrified of creating a bad habit with her eldest child and so, from her very first days, the little baby slept in a cot near her bed and was eventually moved into her own room.
Nothing odd about that - it's the way most of us are encouraged to do it these days.
I managed to escape this quandary with my first child, because he was born at 29 weeks and the way we helped him grow and survive was put him to sleep on our chests - so-called 'kangaroo care'.
When we took the still-underweight little mite home we largely continued in this vein, I thinking myself immune from the decision most mothers have to make with normal weight babies. It only ended when his increasing girth threatened to crush my internal organs...
For many, second babies come around.
A whole lot more tired and this time knowing what you'll be in for, many mothers find their co-sleeping patterns change.
Mine didn't - I shared my bed with my baby for the first six months of her life simply because I couldn't be bothered getting out of bed during the cold winter nights to feed her.
She eventually moved to sleeping on her own when the number of feeds reduced and now sleeps for 12 hours a night - not always consecutive - in her brother's room (a whole other story of sleep-related madness!)
My sister, however, has changed her tune. Realising as she does now that there is no such thing as a "routine" with a baby (how we smile when we hear new mothers talk about them like their establishment is just around the corner!) she often takes her second baby to bed and finds both she and the little girl get a better night's sleep.
Naturally, as a modern woman, she has had half of all midwives / health professionals chide her for her decision, and the other half chide her for not taking the child to bed more often. Such is the modern landscape in baby care.
Two recent articles from Britain recently once more highlight how contradictory the official line on bed-sharing with young babies can be.
In the UK the Foundation for the Study of Infant Deaths (FSID) and all health authorities say babies should sleep alone. A recent study published in the British Medical Journal confirmed this advice, finding, in a four-year study, that in half of SIDS cases, babies had died while co-sleeping.
A quarter of the mums surveyed didn't see any problem with co-sleeping, which authorities deemed "worrying".
But the Guardian's further examination of the study found that co-sleeping on a sofa was a much greater risk, and that drink and drugs are often a factor when co-sleeping goes wrong.
According to the newspaper:
The paper adds that the findings may explain some of the quirky cultural associations between co-sleeping and Sids. Among black African populations in the United States and Maori and Aboriginal people, where babies commonly sleep with their parents, cot deaths are high, yet in other bedsharing communities, such as Japan, Hong Kong and among the Bangladeshi and other Asian peoples of the UK, deaths are low. The difference is in their smoking, drinking and drug habits.
If this is the case, why is so much official advice still to avoid co-sleeping?
This woman had none of the risk factors and was still advised against co-sleeping. She chose to share her bed with her baby and felt she saved its life.
It could be that in the absence of knowing who has exactly what habits around newborn babies, the safer advice is simply to discourage all of us from co-sleeping.
The fact is, however, that many of us find the constant, strong push to breastfeed is inconsistent with the admonition to stop sleeping with bub.
Getting through the days with a new baby is hard enough without endless night wakings, and anything that makes those hours easier is bound to be an option for many - whether they are suitable candidates or not.
- Dita De Boni
Pictured above: Conflicting advice about whether to have baby sleep in your bed or not can be confusing for new parents.