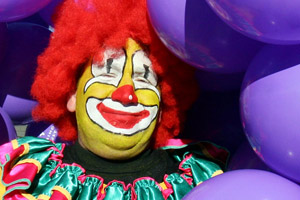 How soon our children grow up and start being funny.
Some are so serious about themselves that they become unintentionally funny, but still more toddlers love to make someone smile and laugh and so seize on the hilarious little things they do to full effect (and then repeat them so many times that they eventually lose it!)
It seemed to me in the past few weeks, as endless bouts of winter sickness have eased and quasi-full night sleeps have restored some sanity, that we are once more laughing at the silly things our kids are doing, rather than tearing our hair out in exhausted despair.
So, here's my list of the top six funny child-related things that have happened recently.
1. My husband took my son (3 years, 5 months) and daughter (18 months) to the park. To my son's delight, a passing person allowed him to hold the lead of his dog and walk the dog for a few minutes. Now, each time my husband takes the kids to the park, my son spends his whole time accosting passing dog-walkers for a turn with the leash.
Daughter, meanwhile, has to be torn away kicking and screaming from her position hugging the large, green plastic dog containing days' worth of dog faeces.
2. My son has started to take an interest in different languages. First, he made up his own language, which he called "sours" (for some unknown reason). He then made a habit of approaching random strangers to ask them what language they speak. The other day he introduced himself to a Korean man called Peter at the pools. Peter greeted my son in Korean, and my son responded with "Hee-haw" - his approximation of "Ni how". I guess it makes a change from yelling "Wake up Jeff" to every passing Asian man!
3. My sister was about to have her second child and asked her niece what name the child should have. Without missing a beat, and with the utmost seriousness, the 3-year old answered "Flarry".
4. My son approached a man in an appliance store yesterday and asked him: "Are you John Key?" Not only does he often ask if someone is John Key, but when the PM appears on the news, he's quick to say - in tragic tone - "poor John Key"!
5. My son reckons "when I grow up to be mummy", he'll drive the car, or pour boiling water into the jelly, or stay up late. (I'm hoping he might also want to clean the house, wash the clothes and cook the dinners, but I'm not holding my breath!)
6. The kids were taken to a farm by their babysitter recently and took turns removing eggs from under (probably much-pestered) hens. Three kids, ranging in age from three to eight, dropped their eggs on their way into the house. Only my 18-month-old daughter held onto hers. Amazingly she didn't drop it even when the babysitter's father caught sight of her and bellowed "What's a baby doing carrying an egg through my house?!"
And finally, something that never fails to reduce me to tears of mirth, but is only tangentially related to children.
My husband has had very early starts recently and so he gets dressed in the semi-dark in the middle of the night. On morning recently he spent about 10 minutes struggling to put on his underwear before realising the garment in his hands was actually a pint-sized Elmo t-shirt.
One of those classic moments that make you realise: Yes, some things are truly worth having your sleep interrupted for!
- Dita De Boni
Pictured above: Kids can, often quite unintentionally, bring you to tears with their funny antics. File photo / Supplied