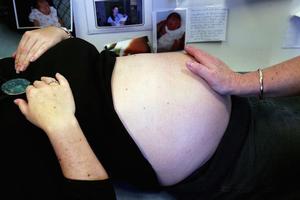 In Australia, midwives have around two more years to attend home births before their doing so becomes a lot more difficult.
The Federal Government across the ditch had been debating new law around home births all year.
It had planned to make registration of private midwives attending Australia's 1000 plus home births difficult, as these midwives would have needed medical indemnity cover - which they currently can't get - to be able to register and practise.
A "mother of all rallies" was held with 2000 women and their home birthed babies marching on Canberra to protest the law, and opposing what they consider a restriction of choice.
The Liberal Government gave home birthers a reprieve until 2012, at which time the lack of this misadventure insurance looks set to potentially force the whole movement underground.
One of the key reasons Australian home birth advocates are so furious about the lack of indemnity insurance for home birth midwives is that the Australian taxpayer has been subsidising medical indemnity for (mostly) doctors since 2002, whereas absolutely no public support goes toward births outside medical centres.
Again, Australian home birth enthusiasts are left looking in awe at the New Zealand set-up where women have (almost) total freedom to decide where they give birth - and their choices are all subsidised equally by the Government.
It was an interesting coincidence that pitched debate about home births in Australia came in exactly the same week as a new study from Canada suggesting the risks involved with a planned home birth - overseen by a registered midwife - are not different, and in fact some markers are better, than those associated with hospital births.
A study looked at 2889 home births attended by registered midwives in British Columbia, 4752 midwife-attended hospital births and 5331 doctor-attended births in hospital.
In planned home births, there emerged a significantly lower risk of adverse outcomes and medical interventions including epidural analgesia, caesarean section, hemorrhage, and infection.
Study authors do note that women who plan to have a home birth are "self-selecting" - ie. they are low-risk women to begin with and have studied and planned their birthing choice.
The study compares practise in Canada with that of other "like" countries, noting that the Australian and New Zealand Colleges of Obstetricians and Gynaecologists oppose home births, while the New Zealand Midwives Association is strongly in support of it.
That home birthing in New Zealand is freely available and Government subsidised, and that our midwives can support it over opposition from obstetricians, is testament to how powerful the midwifery lobby is at present.
On the web:
The Australian debate:

theage.com.au
news.smh.com.au
The Canadian study:
- Dita De Boni