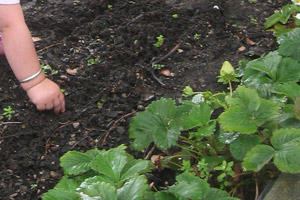 Who the heck suggested young children could be introduced to the delights of gardening with a small plot of their own in the back yard?
Clearly, people without young children, that's who!
One morning recently the day stretched out very long before me indeed. Both my husband and I had been up since 5.30 placating various children and emerged with extremely long faces.
Breakfast was dispensed with; the obligatory banana and porridge mash wiped off every available kitchen and body surface. My husband looked far too pleased to be escaping the house to go to work for my liking.
Wishing me a cheery "have a nice day" from the doorstep (which makes me really want to swing for him) he's off, and I am left a day to plan.
Perversely, I choose to make a hard day harder. I find myself herding the kids into the car and off to the garden centre - a place I can barely navigate on my own, let alone with two toddlers in tow.
Half an hour of wandering around aimlessly and trying to ensure my daughter doesn't swallow fists-full of potting mix, I finally find someone who can help.
She kindly - but slowly - talks me through every outside gardening opportunity as my son nearly hangs himself on an overhanging pot hook and threatens to topple a pile of giant rakes over us all.
Finally, throwing assorted plants into my trolley (pak choy? lemon thyme??) I fair run to the counter, children hanging off the side.
The kindly assistant proves herself to be very wily by telling me I need all manner of extras - kids' gloves, slug bait, and herbal mulch for example - which I agree to hastily in order to get us out of the darned place.
Too hastily, probably, because I don't know what to do with half of the stuff when I get home.
The only thing my daughter wants to do is drown the poor new plants in buckets of water.
My son has no interest in digging holes, I find to my surprise, but he does like banging the plants into place and then - for some reason - raking through them.
It's not the right order of events - even I know that - and we soon end up with what looks like a pile of straggly compost strewn over our little patch.
After half an hour, I've had enough of trying to explain why the new plants don't need to be sitting in 5cm of water; that dirt from the trowel doesn't get flicked into Mummy's lap; and that slug bait shouldn't be sampled.
"Inside, NOW!" I say in my kindliest roar, and they all race inside.
Trampling most of the garden over my nice clean wooden floors and through freshly vacuumed carpet, naturally.
- Dita De Boni
Pictured above: Kids and gardening don't necessarily mix. File photo / Wairarapa Times-Age