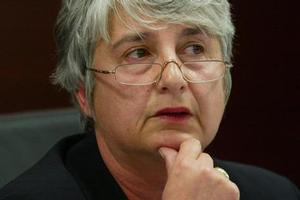 Much has been said of late about Chief Justice Sian Elias' comments in a recent speech where she suggested, as a result of overcrowding in prisons, that some of our prison population serve their sentences outside prisons.
Naturally there was hue and cry over this, but the most interesting points of this speech, from my perspective, are those made about early intervention in the lives of people who are destined to make up our prison population.
Justice Elias ponders why "blameless babes" become the worst sorts of criminals and clog up our prison system.
In fact, as she says, the answers are clear - "the unfortunate reality is that the most influential risk factors will have been present at birth ... [t]he most effective interventions are the earliest interventions."
Responding to the Elias speech, another letter writer to a Sunday paper, someone who had worked at a paediatric hospital, says "failure to thrive" is a diagnosis frequently given to babies seen by doctors, where children have no underlying medical problem but are underweight and behind in milestones.
("This [i]s due to lack of nurturing from the mother ... she could not provide what she had no knowledge of as she would not have experienced nurturing in her own life.")
The list of risk factors that turn blameless babes into career criminals will come as a surprise to precisely no one.
Lack of love and care, particularly from a mother figure; cruelty and bad diets are just some, while parental conflict and separation; erratic or harsh discipline; abuse of any kind and instability are others.
A devil of a problem to help solve, but one that our Chief Justice has given some thought to.
She suggests the idea of intervening in the lives of those most at risk at an earlier stage - not intervention by CYFS necessarily - but community-based systems and mentors to help people navigate the choppy waters of parenting.
How ridiculous that when someone of her experience comes up with ideas that are both radically wise and thought-provoking, jumped-up politicians and commentators are tripping over themeslves to tell her she's out of line, rather than consider the very key points she raises.
Many of us see young lives destined for trouble all around us.
When my son was born at 29 weeks he spent his first seven weeks or so in the Neonatal Intensive Care Unit (NICU) at National Women's. When he was first there, his roomate was a child who held the record for staying in NICU needing acute help for the longest time.
Day after day nurses would care for this little boy while his mother was nowhere to be seen.
When she finally did turn up she complained about having no money for the bus and yet was dressed in the latest fashions and carrying a pretty snazzy mobile phone.
She spent most of the trip berating the "honky" nurses that cared for her son, then fairly swiftly made her excuses and went home to "care" for her five other children.
CYFS tried to deal with this woman with little effect. Her son was brain damaged and would need special care all his life. There was not anyone, nurse or passing adult, who did not feel the urge to disconnect that boy from his cords and monitors and run off into the night with him.
How great if someone had managed to get through to that mother - or to any mother and/or father not up to the job of caring for a young child.
What we need is more ideas of the sort that prevent mass imprisonment at its very root, rather than simply see prisons as a solution to the problem of crime in our community.
They are a poor substitute for a loving and secure early childhood.
- Dita De Boni
Pictured above: The Chief Justice, Dame Sian Elias. Photo / Mark Mitchell