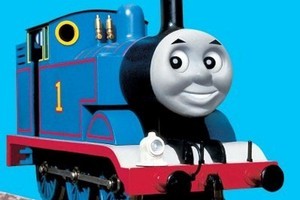 Growing up in a household of girls meant I avoided Teenage Mutant Ninja Turtles, Transformers, Donkey Kong, Grand Theft Auto and other mainly boy-ish media product during the 80s and 90s.
Having a young son in 2006, I haven't been able to avoid Thomas the Tank Engine.
The plucky little blue tank, whose main aim in life is to be a "really useful engine", seems to have captured the imagination of (mainly) little boys across the nation, despite the fact that he does not appear on our television screens - either on free-to-air or Sky.
While the DVDs and videos are omnipresent, their stories are often too plodding and "jolly japes" British for young Kiwi kids to follow.
But the marketing of Thomas is astounding.
In our local toy store, Thomas toys reach wall to wall. There are Thomas bags, clothing and other manner of paraphernalia. Thomas' "friends" - each with their own speciality line of books, clothes, bags etc - must number in the hundreds by now.
Despite being unable to drink a cup of milk without spilling it on the floor, my 2.5-year-old can recite the entire Thomas entourage and can pick out a Thomas insignia just millimetres big!
No doubt the estate of Rev W Awdry, the man who wrote Thomas for his son 65 years ago, has been well rewarded for spawning this empire.
And it will continue to be a money spinner, if this weekend at Glenbrook Railway Station was anything to go by.
For parents of Thomas fans, a visit to Glenbrook during summer is almost mandatory.
The venue, which does some $5 million dollars of business a year in steam train adventures for enthusiasts from across the globe, singles out a few summer days for special "Thomas" days where the trains have faces attached to them to make them look like Thomas and his mates.
There's also a "fat controller" wandering around for photos, face painting, sausage sizzles, and even more Thomas regalia for poor put-upon parents to fork out for.
We trotted around the blazing hot sun; we travelled about 50 metres on the Thomas tank which felt at least 70 years old; we ate the sausages and climbed the play engines and had our photo taken with the fat controller (although I have to say I felt very rude addressing him that way! Perhaps it wasn't such a bad thing to be a fat station manager in the 1940s?).
I had thought it would mainly be sandy haired little boys of Anglo Saxon descent that would descend on Glenbrook for such a day, but I was very wrong.
There were boys and girls of all nationalities, all ages, and many fathers who looked as though they were also enjoying themselves.
After a busy day getting covered in soot and steam, we came home, played with the Thomas battery-operated trains on Thomas tracks, pretended we were travelling to London in the Thomas tent train and ate dinner off the Thomas plate with the cup and cutlery.
Successfully resisting the toddler's urge to watch Thomas DVDs into the night, we finally said goodnight to the exhausted little boy and settled him in - with his coterie of nine soft toys - on his downy Thomas pillow and under his Thomas duvet set!
- Dita De Boni