Poignant tributes to family man who turned his life around.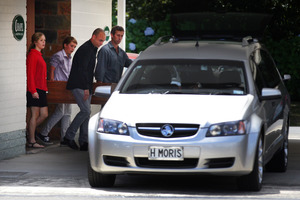 A love story that began at a murder trial drew to a poignant close this week.
Julie Appelgren has paid tribute to her husband of 16 years, Ross, who died aged 61. They met after she sat as a juror in his murder trial, before falling in love and marrying him on his release.
Julie was one of 12 jurors who found Ross guilty of the murder of fellow Mt Eden Prison inmate Darcy Te Hira in 1985 - a crime Appelgren always denied.
Mourners at the Romaleigh Funeral Chapel in Northcote on Friday, heard Appelgren turned his life around after his release and marriage.
He became a dedicated family man, a keen fisherman and a doting grandfather.
"There was nothing he wouldn't do for my kids, and they are my tower of strength as I face life without Ross as he leaves on to his next journey," Julie said.
"He would be overwhelmed by all of the attention he is getting, but deep down he was content to be at home with a good meal and a cold beer."
Appelgren was struck down with a terminal illness about four years ago. His sudden death on January 4 stunned and saddened all who knew him, celebrant Norm Murray said.
Julie added Appelgren was no angel but he would be missed by those who knew him.
"Ross didn't do everything right, he did it his way.
"But, in the end, the odds were against him and a cure was not meant to be. We packed so much into our time together and had an awesome group of friends who enjoyed Ross' humour and stories of days gone by.
"I am truly grateful to those who accepted Ross unconditionally and made life for us in recent years a little more bearable. I love and miss him dreadfully but he is now free from pain."
Ross' sense of humour and passion for fishing were keenly marked during the ceremony.
He worked for many years at Glenfield Coating Services.
Other speakers were Appelgren's mother Iris, stepson Darren Whittaker, and an ex-cellmate who told how Appelgren was a nervous wreck before Julie's prison visits.
"He was like a schoolkid on his first date," he said. "He believed in my innocence and I believed in his."
Appelgren's step-grandchildren gave a moving and humorous eulogy, recalling Appelgren buying fake dog excrement and putting it in their grandma's slipper.
Appelgren fought for years to get a pardon.
His conviction was challenged because of the police use of secret witnesses.
He shared a cell with Rainbow Warrior bomber Alain Mafart in 1985, later recalling a down-to-earth, guitar-playing Frenchman who thought Kiwis rang police over "every little suspicious thing".