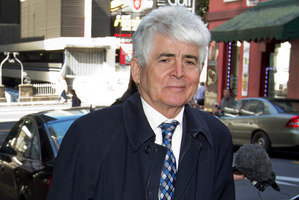 High profile lawyer Barry Hart has been struck off from the legal profession.
The Lawyers and Conveyancers Disciplinary Tribunal today decided to strike off the controversial lawyer, who has been mired in legal trouble.
Last month, the Law Society asked a tribunal to bar the veteran lawyer from his profession - described as the "ultimate sanction" by both the prosecution and defence.
A Lawyers and Conveyancers Disciplinary Tribunal hearing found the 71-year-old guilty of professional misconduct when he "grossly overcharged" clients for his services.
He charged a client's family $1000 an hour, despite much of the preparation work being done by a junior lawyer who had been practising for only two months. On one occasion, the fees were charged for "waiting time in court" and totalled $35,000 - $20,000 more than what an Queen's Counsel said they should have been.
Mr Hart agreed to repay $20,000 to a client the tribunal found he overcharged, and the Law Society sought prosecution costs of more than$116,000. The tribunal costs were around $42,000.
- nzherald.co.nz