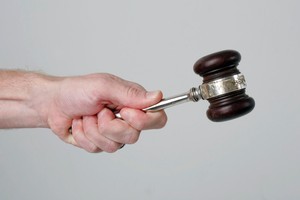 Victims will be able to have more of a say in court and will be told when offenders are granted bail or breach release conditions, under new Government measures announced today.
Justice Minister Simon Power said that victims - who ended up in the justice system through no fault of their own - often feel sidelined by the criminal justice system, and their rights needed to be enhanced.
"Victims can find the system bewildering and have expressed frustration and a sense of helplessness in the face of a system that is slow and unresponsive to their needs.
"This is about putting victims at the centre of the justice system, and changes around Victim Impact Statements will go a long way to achieving that."
The measures include:
- the automatic right for a victim to read a Victim Impact Statement out in court, instead of needing permission, and extending that right to victims in the Youth Court
- clear guidelines on what can be in the statement, including the option of expressing the impact of the offending in their own words. However threats against the offender, directions to the judge, references to previous offending or comments on the sentence will not be allowed.
- enhancing the Victim Notification System so victims will be told when an offender breaches release conditions, home detention conditions, or if an offender is granted bail
- a new Victims Centre - at a cost of $218,000 - to be a one-stop shop for all state-funded victims' services, including information resources
- a Victims Code to improve accountability of justice sector agencies to victims
- ensuring prosecutors tell victims about charges that have been changed, and take "reasonable steps" to contact all victims of serious crime
The package will be paid out of existing government agency baselines.
The Victims Centre will be set up immediately, while other changes will take effect with the passage of the Victims of Crime Reform Bill, to be introduced in the middle of the year.
Some proposals floated in the 2009 review of victims' rights have been axed, including a Victims of Crime Complaints Officer to monitor compliance with the Victims Code.
Instead agencies will have to have a complaints process, and a summary of services to victims will have to be included in their annual reports to Parliament.
The package comes on the back of a series of measures announced last year, including a $50 levy on all offenders, increasing the discretionary grant for families of homicide victims from $1500 to $5000, and increases in grants for travel, accommodation and childcare assistance for victims attending court proceedings.
"We can never legislate away the pain and suffering faced by victims, but I believe this package will help ensure that victims are not re-brutalised by their participation in the process," Mr Power said.
The Sensible Sentencing Trust said Mr Power's announcement was "like a breath of fresh air" and would be welcomed by many victims the trust represented.
"We understand that this is not a panacea but the moves the Government has announced will go a long way to addressing the imbalances and shortfalls of the current system," trust spokesman Garth McVicar said.
In the past, the families of victims have been angered by censorship of their victim impact statements prior to being read out in court at sentencing.
Gil Elliott, the father of murder victim Sophie Elliott, appealed for a law change last year after his victim impact statement, in which he had intended to "have a crack" at his daughter's murderer Clayton Weatherston, was heavily censored by the judge.
Mr Elliott was particularly disappointed he could not address some of Weatherston's claims during the trial, particularly that Sophie attacked him first with scissors.
"They were lies. I wanted Clayton to hear that from my mouth. I wanted his mother to hear that. I wanted the media to hear it - but they would not let me say it."
There was also an outcry after the son of murder Tokeroa Lois Dear was told to tone down his statement in 2007, although he was eventually allowed to read it unaltered.
The rules about victim impact statements are set down in the Victims' Rights Act 2002 and while there are no explicit restrictions, case law dictates that victims cannot criticise the offender or the justice system, and must confine their comments to the crime's "impact" on them.
- additional reporting Paul Harper