Conservative Party leader vows to keep calling in lawyers if satirical websites continue to quote him incorrectly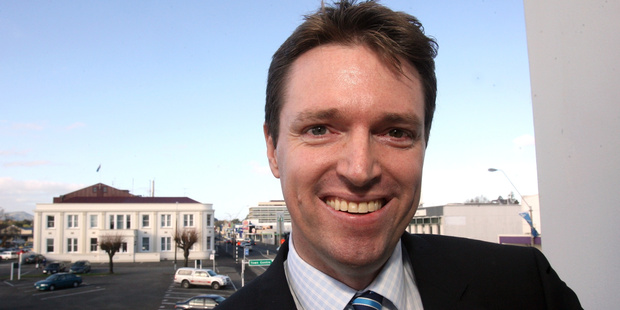 The Conservative Party leader Colin Craig stands by his defamation warning against the satirical website The Civilian this week.
Mock interviews and made-up quotes are a common device for satire.
The most consistently amusing is the Secret Diaries column by Steve Braunias.
Meanwhile, parody twitter accounts are also becoming a popular way for people to take the mickey.
Craig has been pilloried by some for his legal note to a small publisher mocking him by using false quotes in his name.
He says he has done it before, and he will do it again.
"We have tried to be relatively strict with quotes - other times it has happened and no one has noticed," he said.
The Civilian piece referred to Pakuranga MP Maurice Williamson's speech to Parliament, which went viral, saying he saw a "big gay rainbow" as a sign in favour of legislation allowing gay marriage.
In The Civilian, Craig was quoted as saying that after Noah's flood, God painted a giant rainbow which was a message he would never again flood the world unless we made him very angry - and that he was angry.
Craig says he is not against satire - and loves political cartoons - but quotes should be sacrosanct.
Made-up quotes could be taken from a known satirical site, then copied and posted on Facebook pages where people thought they were real, he said.
"Quotations is the only one we get concerned about. Our lawyers say 'hey you've got to pull that off - change that or apologise' - everybody has done it," Craig said.
"There is room for satire but it needs to have some level of respect."
Good publicity
But satire and parody are not well protected in New Zealand law though the new online media standards authority might be a venue for complaints if the online media joins up.
But when it comes to legal challenges, money talks and corporates have deeper pockets than individuals.
One well-placed legal source said that letter from top end law firm Chapman Tripp would have have cost Craig more than $3000.
He says he is prepared to pay for more transgressions.
Legal costs could be costly for a small media firm even if a dispute never made it to court.
A recent item on TV3's The Nation was critical of the Conservative Party and its attempts to control media coverage.
Craig is happy with the party's media strategy.
But he says its Facebook accounts get swamped by activists and the party had to increase its profile online.
And practically speaking, he acknowledged that news reports over the legal letter were valuable publicity for the party.
The publicity has also been good for The Civilian.
Turning cheek
Craig is unhappy how politicians are treated online.
He says they are being mocked, undermined and shown disrespect. Sometimes they are even abused, he said.
"The view that we can say what we like about politicians has done us [New Zealanders] some harm."
Activists had attacked him personally but he would turn the other cheek.
"I never call people names or abuse them. But it becomes hard when they want to call me every name under the sun," he said.
"Do you stoop to the lowest common denominator and get down to name calling or try to maintain some integrity?" he asked.
In my opinion, online comment can be clannish, simplistic and downright ugly.
It must be annoying to have words put in your mouth. But Craig is putting himself out there with controversial policies. But robust debate about politics and politicians are a sign of healthy democracy.
There is nothing wrong with scepticism about people seeking power and their motivations.
And it would be a worry if debate could be shut down by a financially stable political party firing off letters when they do not like being the subject of humour.
Moving on
Maori Television Service chief executive Jim Mather has resigned amid changes in the way Maori TV is delivered.
Mather has given six months' notice before he becomes chief executive of the education body, Te Wananga O Aotearoa.
Mather ended early years of upheavals and deep politics inside Maori Television's board. He maintained a balance between the Crown on the board and Te Putahi Paoho, the Maori Television Electoral College, overseeing the tensions between the channel's role in promoting Maori language with the aims of entertaining and attracting a mainstream audience.
As an organisation it is also intensely political.
Carol Hirschfeld is being tipped as a potential replacement for Mather. The MTS head of production and former TV3 newsreader and executive producer to John Campbell, she has become a face for MTS while establishing a good rapport with Mather.
Another suggestion for the top job is Te Anga Nathan, who recently stepped down as head of news and current affairs to be head of strategy. An outsider being talked about is Paora Maxwell, who recently stepped down as general manager of the Maori and Pacific Affairs Department at TVNZ. Maxwell is credited by some with revitalising shows such as Te Karere.
Pay no issue
RadioLive broadcaster Willie Jackson has rejected a suggestion that he turned down a commitment to appear on TV3's The Vote on Wednesday night because it was not paid. His colleague John Tamihere was on the panel instead, answering the moot that New Zealand was a racist country. The Vote co-host Duncan Garner - who works with Jackson and Tamihere at Radio Live - suggested in a tweet that money might have been a factor. But Jackson said he did not appear because the proposition being debated was not subtle enough. Jackson said he often appeared on television shows for free.
One argument advanced for TV shows not paying for pundits to appear on current affairs shows is that it is effectively news and networks should not pay for news. But I would argue that in the case of The Vote - where the debating teams are effectively talent - networks could pay for people taking the trouble to turn up. Otherwise public money goes straight in the pockets of TV3. We end up with political commentary as part of public relations positioning.
Repeats
New Zealand On Air released its annual survey of local content for 2012 this week. Some points are listed below:
• First run local content decreased to 20 per cent, down from 23 per cent in 2011. Repeat screenings were 36 per cent of local content compared to 28 per cent in 2011, the report found.
• Maori Television extended its broadcast day to begin at 10am midyear. The additional five hours a day were primarily repeats of Maori language learning programmes which contributed to the increase, said the report.
• Local content hours comprised 23 per cent of the schedule, and 18 per cent in 2011. Significantly this was thanks to the Olympics, to which Prime devoted almost all broadcast time, from July until mid-August.
Farcical
The survey was beautifully presented. NZ On Air said separation of local versus international content is beyond the scope of its methodology. But while this makes NZ television and NZ On Air look good, the taxpayer organisation should have broken it down. Otherwise it would seem to make a farce of the figures.
Sharpening up
The TVNZ 7pm show Seven Sharp has been enjoying a boost in ratings lately. I hear TVNZ has sent a team to Sydney to see how the format is working for Network Ten's show The Project.