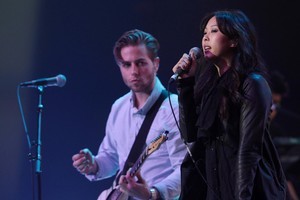 Public radio campaigners are racing to revive a youth radio network as the Government considers selling Kiwi FM frequencies to the highest bidder.
BFM trust chairman Chris Hocquard and legendary musician Neil Finn are behind a last-minute bid to galvanise interest in the youth network - which has been in limbo since Kiwi FM started in 2005.
They want to develop a non-commercial radio network before frequencies are tendered off to a "same-same" station for MediaWorks or The Radio Network.
MediaWorks announced this week that Kiwi FM would reduce its local content from 100 per cent to 60 per cent. Permission was granted by the Ministry for Culture and Heritage in March last year.
Hocquard says there is demand for an ad-free network.
He said public radio interests were shut out of government talks with the commercial sector held through the Radio Broadcasters Association - a duopoly held by MediaWorks and The Radio Network.
He believes lower local-content limits are a precursor to the frequencies being tendered out and bringing more of the same commercial radio content.
Ministry of Economic Development frequencies boss Ian Hutchings confirmed the ministry was looking at including the non-commercial Kiwi FM frequencies for Auckland, Wellington and Christchurch and two others - all of which were set aside for the youth radio network - in a review.
The review would suggest a tender of frequencies that are not permanently allocated, which could include those used by Kiwi FM. MediaWorks makes no profit from Kiwi FM.
The audience is minuscule but Kiwi FM gets $300,000 a year in NZ On Air programming subsidies which largely keeps the station topical and meets government policy to avoid a full youth network.
The station will now be playing 40 per cent international "alternative" music. It's a format record company executive Alistair Cain compared to the former MediaWorks alternative music station Channel Z. Cain pointed out there was no other format to play that material
Despite the timing for going less local - 11 months after it was approved and before it faces another review in July - MediaWorks says it is not preparing for commercialisation of the frequencies and has not been involved in talks with the Government about a tender.
Certainly MediaWorks does not have money to throw around - and neither does The Radio Network.
But a tender could realign the division between the two players in the commercial radio duopoly. That is especially the case in Auckland where the two firms are finely balanced. In the last round of tenders MediaWorks paid more than $6 million for an Auckland FM frequency.
LOOSE TALK
The issue is a side effect of broadcasting talks done in a back room on the hoof - with the public excluded.
The Government felt no need to even announce that it had reduced local content obligations for Kiwi FM.
Around 2005 the Labour Government did not deliver on a national youth radio network, and made a behind-scenes deal with MediaWorks to offer Kiwi FM.
The idea of a 100 per cent local radio station was never a viable brand - who ever heard of Jocks-only on Radio Scotland? - and made no sense even without the restrictions on commercial radio.
Do young people need or want an ad-free station - or does anybody want another bland middle-of-the-road radio station?
In other countries they tend to talk about broadcasting and debate the balance between commercial and non-commercial.
Here it is all about helping out politicians as they make policy on the hop. It's all a bit Third World.
SKY AND TVNZ
Telecommunications Commissioner Ross Patterson completes his tenure in July and has told the commission he is available to stand again after encouragement from the telecommunications industry.
A well-placed source said that with closer ties between Television New Zealand and Sky TV there has been lobbying against the reappointment of Patterson - who has opened the door to discussing content as a factor in telecommunications competition, especially in the new era of internet TV.
Patterson played a role developing the study on barriers to uptake of ultra-fast broadband, discussed at a broadband conference in Auckland this week.
The study includes content and the extent that access for the new era of internet television might limit competition and uptake of UFB. In particular the study has started to look at the control of content - where both Sky and TVNZ dominate - and whether that will limit uptake.
TVNZ was once a fierce critic of Sky's dominance of content but has gone very quiet now they are hand in hand with various business ventures. My sources say both broadcasters have made it clear to the Government they would prefer if the independent Patterson was not reappointed.
TVNZ spokeswoman Megan Richards and Sky TV chief executive John Fellet were vehement that they did not lobby against the reappointment and would not do such a thing. Fellet said that Sky had no problem whatsoever with Patterson.
The decision about Patterson's reappointment will be with Telecommunications Minister Amy Adams, who made it clear at the broadband conference the Government backed the "wait and see" approach to regulation promoted by Sky TV.
PITA PIPER
Maori Affairs Minister Pita Sharples has not decided on his approach to Maori TV providing public television to replace TVNZ 7. Maori TV's advice to the minister effectively says that it is up for the challenge of extending beyond the present two channels - but it must not undermine its main brief for Maori content.
Maori TV CEO Jim Mather said extra public money would not be needed. Funding could be reallocated from including NZ On Air's Platinum Fund and money allocated to TVNZ for Maori programming.
Mather acknowledged MediaWorks and TVNZ would resist removal of taxpayer funding away from their commercial projects.
"They don't want to provide public television services and they don't want anybody else to do it," he said.
TACO BELLE
In a Business Herald article yesterday businesswoman Christina Domecq recounted her background, leading her to become a mentor in New Zealand and even being named on the advisory board for The Localist, an advertising and media venture wholly owned by NZ Post.
The Localist is competing against Yellow Pages Group, and to a lesser extent with community newspapers, and it is being supported through its start-up phase by NZ Post. Anyway, Domecq, from the famous drinks company family, has a full business life and it was interesting to note she turned up in an online review for MexiKai - a food company based in Grey Lynn. She gives a plug for the firm saying "finally real Mexican tacos in Auckland".
It was not mentioned that Domecq is the sole director and shareholder of the firm.
Ignoring the issue of her advisory role with the Localist, I wondered about the policy for reviews, which is so much a part of the directory service.
Localist boss Blair Glubb was not surprised and said owners would inevitably plug their own businesses. He was sure that would happen on other business directory websites.