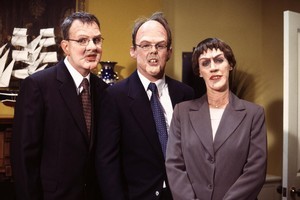 Television New Zealand and TV3 are both beholden to the Government - and both have shied away from political satire in the run-up to the election.
At the start of this year New Zealand On Air told networks it would look favourably at funding a political satire show alongside the election. But with two months to go networks have not come up with any proposals and now it is too late.
It's tempting to blame NZ On Air, which I believe has been politically compromised by the Government's appointing John Key's Helensville electorate chairman, Stephen McElrea, on its selection panel.
However, most producers believe NZ On Air would support a network-backed satire. But nobody wants to poke fun at the pollies.
TV3's Seven Days sometimes gives politicians a ping. But TV3's parent company, MediaWorks, was kept afloat by this Government in 2009 when the company lobbied John Key and secured a $43 million loan allowing a delayed payment for its radio frequencies.
Two producers said TVNZ was trying to improve its relations with the National Government, so there is no enthusiasm for taking the mickey out of its shareholding ministers.
A third producer - South Pacific Pictures chief executive John Barnett - said there was a wider problem in New Zealand media dealing with satire.
"I think we've become a bit more timid and less able to laugh at ourselves. Online people are saying all sorts of things, but on television and on radio, we're very quick to jump on parody, satire, or opinions that might upset anyone.
"If you are an elected official or a candidate for public position you ought to be able to withstand that type of examination," said Barnett. "You should expect it but we've become so PC that we don't encourage it any more. Where's John Clarke now that we need him?"
Political satire has an honourable history in New Zealand, going from McPhail and Gadsby and A Week of It to puppet comedy Facelift and TV One's The Pretender. But TVNZ has shown little interest in local comedy lately.
Spokeswoman Georgie Hills said: "It's true political satire series like Facelift no longer feature in our schedule [but] many of our top-rating drama commissions of late have been comically oriented or have a light touch."
MOVE ON
I can't help but agree with John Barnett about the fear of giving offence.
It's apparent in the earnest entreaties for New Zealanders to behave during the Rugby World Cup and the spat between TV3 Firstline presenter Rachel Smalley and former England rugby captain Will Carling over Mike Tindall's antics.
"They're drunk, groping women and slamming shots - in public. They're ambassadors for the game at the very highest level," proclaimed the pompous news host, who complained about people acting "like arrogant Eton schoolboys on the piss and on the pull. It's a RWC!"
Spare us the moral indignation, Rach - it's a rugby tournament.
What is it with TV3 presenters that they want to broadcast their lives even when they are off the air?
It's fine if you are a 22-year-old junior reporter - but isn't Smalley supposed to be the bastion of straight news at TV3?
FAST TALK
TV3 has removed some of the bells and whistles from its late night Rugby World Cup show Cup Talk and is stopping the time limits on people talking.
The channel acknowledges it had made some changes to the show which some have described as bad television and said it was not averse to more changes in the future.
LEFT, RIGHT, LEFT
Peter Verschaffelt's role as public relations man for the Mana Party takes him full circle on the political spectrum.
I first met Verschaffelt in the early 1980s when he was the ginger-bearded leftie Maori affairs reporter for the Waikato Times who, on first impression, you might have called a hippy.
He left journalism to be a potter in Coromandel, where he was front man for anti-mining group Coromandel Watchdog before moving to Wellington for a new job as PR man for the Mines Department, and then for the Bankers Association.
He was a senior editor with Radio New Zealand and wound up with Neil Roberts' production company Communicado with its good-news business entrepreneurship show Made in New Zealand, where he promoted plucky Kiwi businesses making good against the big boys in Asia and a business-friendly approach that made him a popular speaker at National Party conferences.
Now he is handling PR for the far-left Mana Party while working on Willie Jackson's Radio Waatea.
Verschaffelt appears to have gone from the left, to the right and now back to the left again. But he insists the terms left and right are irrelevant nowadays. I'd beg to differ and suggest the terminology went out of fashion in his right-wing era but is now common parlance once again and may even turn up in a Sue Bradford press release.
DUMMIES' GUIDE
Rugby is on everywhere but the game is still a mystery for tens of thousands of Kiwis watching it for the first time in yonks - or some watching for the first time ever.
It's a harder game to understand than soccer, but TV seems focused on the rugby aficionados. "Rugby for dummies" material outside the official commentary would make it easier for the casual viewer to follow the game and enjoy it.
Some in the TV world privately admit that even the commentators don't always understand the finer points of why penalties are imposed around scrums.
Kevin Cameron, head of sport for Sky TV, acknowledged the issue and said Sky had included details on the referees' calls in the graphics.
The IRB has also asked broadcasters from countries that bought the Sky feed to "try to be patient"' explaining the game's details.
Meanwhile, Sky is hosting at its Mt Wellington headquarters several international broadcasters providing material for their home countries.
The two biggest teams are from ITV in Britain and TF1 in France. ESPN - which holds Argentine rights - also has a team
VIVA LA SKY
Even a casual observer will have recognised that this year's Rugby World Cup pictures are superior to those from the 2007 cup in France. No offence to the French, but rugby is a minority sport there with less expertise and experience shooting the game.
Ross Young, the general manager for the IRB business RWC Ltd, said the IRB and broadcasters had been "really happy" with Sky's host broadcaster feed.
"Also the atmosphere and layout - the feedback from all our rights holders has been very positive."
The IRB tried to keep TV coverage of tournaments consistent but beyond the core requirements different broadcasters introduced their own touches. Kiwi rugby coverage had more close-ups on players whereas the French were inclined to include more long shots.
RUGBY REO
I've been fascinated by the rave reception for Maori TV's cup coverage given the promises inherent in Government funding for the rights that commentary would include an element of Maori language material. I can't see much. Spokesman Chris Wikaira said Maori Television was contractually committed to the IRB to provide a 5 per cent to 10 per cent level of te reo on the main channel and 100 per cent on its Te Reo channel.
"Te Reo channel is tracking at 100 per cent. Exact numbers for Maori Television are still being analysed but Maori is used more in the pre-game commentary and post-game analysis than the game itself," Wikaira said. "This is being reviewed as the competition progresses, but in the main [Maori TV] is confident it is within its contract commitment."
ROGER AOK
Another broadcasting man has taken a senior role in the banking industry. ASB has appointed former MediaWorks marketing boss Roger Beaumont as the executive general manager for marketing and online. He takes over on October 3. He replaces Deborah Simpson, who left the company recently. The head of communications at TVNZ - Peter Parussini - was recently appointed head of communications for ANZ Bank.