Innuendo and bad taste were awfully tacky, Telecom - bring back Spot and the meerkats.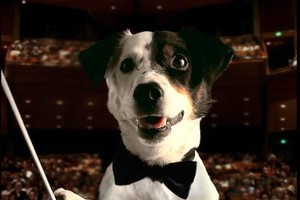 For investors contemplating the split of Telecom, the "Abstain for The Game" ad fiasco raises the question of how much the board of directors knew beforehand.
Was this costly marketing disaster just a bad call by an ad agency and management? Or did the board give it a thumbs up?
The board will no doubt disavow any involvement in the choosing of an ad campaign. That is the job of management.
Head of retail Allan Gourdie - considered a candidate to head the retail business - was yesterday taking responsibility for the cock-up.
"We caused offence to some people and for that we apologise," he said, promising a return to the tried and true themes of rugby sponsorship. Bugger 20/20 hindsight - how did they back such a bad ad?
It's the Rugby World Cup and negotiating a very political restructuring in an election year is a pivotal time for Telecom. The board would have been remiss if it had ignored this branding statement. And with Kevin Roberts on the board it should have had the inside running on both branding and the rugby.
Roberts is the New York-based global president of Saatchi & Saatchi, a high-profile promoter of rugby, former rugby union member and a chairman of USA Rugby.
The ad was fronted by former All Blacks captain Sean Fitzpatrick, who described Roberts as a mentor. The debacle will further damage the long and sometimes rocky relationship between Telecom and Saatchi & Saatchi.
The days when Saatchi & Saatchi dominated the New Zealand advertising industry are long gone. Remember the meerkats and Spot the dog?
Telecom remains the cornerstone of the Saatchi business. It cannot afford to lose Telecom and it is a significant supplier to Telecom. In any review of this debacle the ad agency can at least take comfort that its global boss is on the Telecom board to explain the benefits of sticking with Saatchi.
Dodgy dodgems
Roberts was quoted this week defending the ad campaign as tongue-in-cheek and a bit of fun. Admen I approached were almost unanimous that the campaign was bad to the bone, with one calling it a calamity.
Ad consultant Martin Gillman, though, said the tongue-in-cheek treatment was a bold step away from the stereotypical blokeish triumphalist style for most RWC promotions.
But there must be questions about why Telecom adopted a slightly creepy sexual theme for a national icon - and a telco - that is seeking not just blokes as customers but women and children too. It even showed Fitzpatrick driving around in a pink dodgem shaped like a fist - raising the obvious connotation about abstinence. The ad beggared belief.
A marketing source said Saatchi in Australia had promoted a similar "abstain" idea for Toohey's beer - but it had been rejected. The question is if the idea was repackaged for Telecom.
One suggestion is that Telecom was seduced by Rhys Darby-style humour that has been such a hit for rival mobile company 2degrees. Remember Saatchi and Telecom's mis-step with the XT mobile campaign featuring Richard Hammond - a campaign that was criticised for ignoring female customers.
Ignoring the issues of demographics, the wooden performance by Fitzpatrick and the poor execution of a bad idea, the issue may be that Telecom and Saatchi misunderstood the market and the place of the All Blacks in the Kiwi psyche. As one adman said, "it was all about them".
Less sleaze please
One last thing on Abstain For The Game - and it fits in with something I've whinged about plenty of times before - is sleaze. From the dodgy-shaped pink dodgem to the "rubber rings", it had a yucky feel to it. TV programming has gone down the same sleazy route with shows like Two and a Half Men. Air New Zealand got sleazy with Rico the foul-mouthed rodent - though it appears to have pulled back a little. Maybe the wave of sleaze has reached full tide.
Pay's the way
A study of New Zealand media forecasts that pay television will pass one million subscribers by 2014 - with the vast majority of them receiving a service by satellite. The PricewaterhouseCoopers outlook said this year there were 830,000 subscribers. But this would grow by 5 per cent from 2011 to 2015. The market is forecast to reach $974 million by 2015, an increase of 7.1 per cent.
Forecasts are not so good for cable TV, operated by TelstraClear in Wellington and Christchurch. PwC said cable would lose 10,000 subscribers from 2011 to 2015. The survey estimates that 51 per cent of homes have pay TV compared to 47 per cent with free to air only. It estimates that by 2015 61 per cent will have pay and 37 per cent free TV only.
US-UK-TVAmerican media company Scripps Networks has taken a 50 per cent stake in UKTV, which screens in this country on the basic channel at Sky TV. Virgin Media owned half of the channel in a joint venture with BBC Worldwide but recently sold its stake to the US company for about US$740 million, including US$200 million in debt owed to it. The Guardian newspaper reported that following the completion of the deal, Scripps is negotiating to give BBC Worldwide the option of increasing its stake to 60 per cent.
Holiest of holies
Ownership of its Auckland studios has emerged as another point of difference between Radio NZ's board of governors and management.
Everybody accepts that RNZ needs an Auckland base - it's been too Wellington-centric for too long. But the question is whether it needs to own its building on the corner of Wellesley and Hobson Sts. Management contends it should retain ownership.
Meanwhile, RNZ is standing by the processes that saw it appoint the public relations boss of a publicly listed company to fill in for Jim Mora on his Radio New Zealand National afternoon talk show.
Vector PR woman Sandy Hodge filled in for two days last month and is a former producer for the show, though her lack of on-air experience showed. The Mora show frequently uses PR people on its panel. Hodge said Vector gave her permission and RNZ spokesman John Barr said the editorial issues were overseen by the producer, not the presenter.
The Hodge appointment is surprising given Vector's high profile and RNZ taking the high ground.
State radio positions itself as the holiest of holies on commercial plugs and editorial independence.