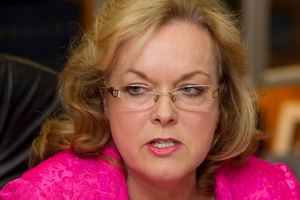 Naked self-interest rules, pure and simple.
Well may the Government try to blame a lack of consensus amongst Parliament's component parties as reason for not implementing the recommendations of the Electoral Commission-conducted review of MMP.
That rationale is just a little too convenient, however. When it comes to consensus, National is the one which refused to budge in its opposition to arguably the commission's most important and most controversial finding - that the anomalous, outdated one-seat threshold under which minor party list candidates can coat-tail into Parliament on the back of a MP winning an electorate seat should be abolished.
National has refused to budge because retention of the one-seat threshold gives it greater chance of getting enough backing by way of minor party seats sufficient to give it a majority in the next Parliament.
Such a stance is totally indefensible. But it is also completely understandable.
Yesterday's announcement by Justice Minister Judith Collins confirmed what many inside and outside Parliament had increasingly suspected - that National had no intention of implementing the recommendations in time for next year's election.
The commission's final report has been with the minister since October last year. Those backing the recommendations - particularly the one which would abolish the one-seat threshold - had assumed National was delaying as long as possible so it could say it could not implement the recommendations in time.
That was not a sustainable position, particularly as pressure was starting to mount, albeit slowly, for action.
Collins has at least now fronted and declared the review which cost taxpayers a cool $1.6 million as being dead in the water. Its other recommendations included reducing the party vote threshold from 5 to 4 per cent, that overhang seats should be abolished and consideration be given to fixing the ratio of electorate seats to list seats at 60:40.
There was consensus that political parties continue to have responsibility for the selection and ranking of candidates on their party lists, and that candidates should continue to be able to stand both for an electorate seat and on the party list.
Again, self-interest was at work.
And, once again, Collins has stymied a reform initiative promoted by Simon Power, her predecessor in the Justice portfolio. But it is also a slap in the face for those who made submissions to the review. It also short-changes voters who were led to believe some of the deficiencies of MMP would be remedied if the electoral system survived the 2011 referendum. They may not be impressed with National's off-hand and dismissive treatment of their concerns.