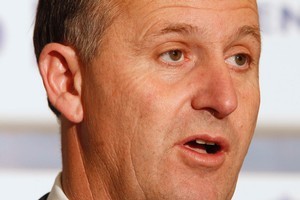 Sorry, John. Right idea; wrong corpse.
To borrow Phil Goff's language, the Epsom tea party was supposed to be about John Key breathing life back into Act. This fiasco instead pumped oxygen into another political cadaver - New Zealand First.
Tomorrow could yet turn into National's version of the Night of the Living Dead.
A truly hung Parliament where the governing options are not immediately obvious remains the least likely outcome. If it happens, then National's campaign will be deemed a failure.
That such an outcome is even possible raises big questions about the tactical judgment of Key and his advisers.
You get the feeling, however, that National's campaign team lacked for the court jester to tell the king when he was going off the rails.
The train wreck in the aftermath of the secret taping of the conversation between Key and John Banks would never have happened were Murray McCully still stationed behind the throne.
It is easily forgotten that campaigning as the governing party is extremely difficult. Key's popularity - and National's with it - had made it look easy. Too easy.
Yet, this campaign has been no different with issues like transtasman migration suddenly flaring and focusing the spotlight where the Government's record leaves it vulnerable.
National seemed to take that on board. Then came the sudden excursion into the realm of media ethics. How much of this was a rush of blood to the head and how much of it was a calculated attempt to do battle with the media safe in the knowledge that the media always come off very second best in the public's mind is the most intriguing question of this campaign.
The suspicion is the former which, when things went wrong, was ameliorated by the latter.
Key's cutting short and walking out of one of his press conferences was obviously very deliberate. The media's mistake was to interpret that as a sign of weakness. More than likely, it was Key acting on his highly tuned political instincts.
Key broke a fundamental law of political campaigning. He lost control of something he had initiated. Any pluses in withholding the tape's contents soon evaporated as the details emerged elsewhere. Peters was in the ascendancy. It has taken until the middle of this week for National to get its campaign back on track.
Looking at National's seemingly puncture-resistant poll rating, however, you would be excused for thinking none of this happened.
The paradox is that Goff - unlike Key - would seem to have got more right than he has got wrong during the four weeks on the hustings. Yet, this does not seem to have made a blind bit of difference. If anything, Labour's support has ebbed even further.
Labour's "shock-and-awe" campaign was always high risk. It had to be. But the lesson is simple. You cannot shift three years of negative sentiment in less than three months - the short timeframe Labour gave voters to absorb its capital gains tax and other policy lurches.
Goff has made a mockery of his party's earlier decision to keep him off its hoardings and advertising material.
He is this election's ugly, grey moth transformed into resplendent, multi-coloured butterfly.
Labour is suddenly confronted with the question it thought it would never have to ask itself: should Goff stay?