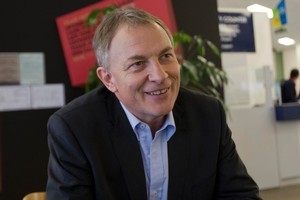 Labour leader draws new energy from role as the politician ready to make tough decisions for the good of New Zealand
In one of the quieter moments of this otherwise turbulent election campaign, Labour MPs might want to ask themselves the following question: would Phil Goff be doing an even better job on the hustings had he not been dogged for so long by the constant speculation surrounding his longevity as leader?
The first week of the campaign has confirmed what everyone knew, but were reluctant to accept. No one else in the Labour caucus could have come anywhere close to matching Goff's high-octane performance. None of the pretenders to the throne - David Cunliffe, David Parker or Shane Jones - are yet in the same class.
Goff has shifted up a gear. Unfortunately for him, John Key did likewise in Wednesday night's fateful Christchurch Press leaders' debate when he pinned the Labour leader like a butterfly in a display cabinet on the question of where the money was coming from to pay for Labour's promises.
Key is well capable of shifting up a few more gears. In drawing the best out of himself, Goff is drawing the best out of Key.
Wednesday's disaster means Labour ends the week having taken 10 strides forward and nine steps back.
Goff will pick himself up and carry on regardless. He is displaying the born-again zeal of the religious convert. He is drawing fresh inspiration and energy from his new self-designated role as the politician willing to make the "tough" decisions for the good of the country.
This may take some swallowing by voters coming from someone who was party to the messy business of government for so long.
Many will simply see Goff's potentially suicidal decision to be the purveyor of unpopular, yet necessary policies as the last desperate act of someone whose rapport with the electorate is so low that he has to shock just to get noticed.
If - as the polls suggest with unwavering assurance - Labour has no show, Goff will draw solace that he fought his last battle doing the right thing and at least getting future pension policy and a capital gains tax up for debate.
Wearing this mantle also gives Goff occupation of the high ground, however. Suddenly, he has discovered how to belittle the Prime Minister without looking petty.
And Goff has not held back from attacking Key. This has made utter nonsense of the refrain from Labour's strategists that the party's campaign would focus on policy not personality because Goff could not hope to win a popularity contest with John Key.
Maybe not. And Goff has talked policy. But he has used that policy to round on Key at every opportunity. He has no choice. Key is Labour's nemesis. He is the difference between Labour potentially coming close to being in a position to form the next Government and it wallowing in its current agony.
Turning its back on the traditional presidential campaign was never going to last beyond five minutes. Goff's resurrection has given Labour every reason to embrace the presidential campaign even more.