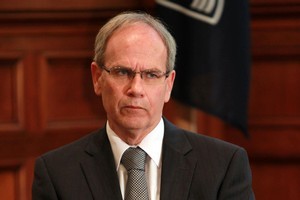 Wham! A super-sized vote of no confidence in the Super City, courtesy of John Key and Murray McCully. The Prime Minister and his World Cup minister have landed a killer punch smack bang into the solar plexus of Auckland local government. Len Brown probably never saw it coming.
It would be difficult to come up with something more humiliating for Auckland's Mayor than the Government using its special powers to seize control of parts of the Auckland waterfront for the remainder of the Rugby World Cup tournament.
That decision says Key and McCully have little or no faith in Auckland authorities avoiding a repeat of the chaos in downtown Auckland last Friday. They have delivered the ultimate insult. Part of central Auckland will now be run from central Wellington.
The announcement may have been McCully's to make. But it has "John Key" stamped all over it. To borrow from Theodore Roosevelt's dictum on how to conduct diplomacy, the Prime Minister speaks softly, but when circumstances dictate, he is capable of wielding a very big stick.
The motive for the intervention goes deeper than public safety. As far as National is concerned, the World Cup is going to be not just a success, it is going to be a stupendous success. And - coming as it does ten weeks before an election - National is going to take no chances on it being anything other than a stupendous success.
Key's initial reaction was to downplay what had gone so badly wrong on Friday and not let it obscure the Cup's glorious opening ceremony. He was still doing that in Parliament yesterday, even though he would have known McCully's late afternoon announcement of the waterfront takeover would reveal the real extent of National's concern.
The decision is also recognition of a fundamental rule of New Zealand politics: that responsibility for something going wrong always ends up being sheeted home in varying degrees to Cabinet ministers.
It will have hardly escaped Key's notice that Labour is now asking questions about who or what was responsible for what happened last Friday.
Phil Goff has made a valid point. You cannot turn up to photo-opportunities as Minister for the Rugby World Cup but pretend you do not have that title when things are not so hunk-dory.
However, if McCully and Transport Minister Steven Joyce are going to be targets in the blame-game then - in Key's view - they may as well be running the whole show.
The good news is that should mean ministerial responsibility will be much clearer. Until yesterday, that had not been the case - so much so that Parliament's Speaker, Lockwood Smith, yesterday declined Goff's request for a snap debate.
Smith's problem would have been finding a direct link between what went wrong and a minister having "distinct" responsibility for it.
But Cabinet ministers are ultimately accountable to Parliament. Putting parts of the Auckland waterfront under Government control will mean ministers dealing with the World Cup can no longer so easily escape parliamentary scrutiny.
The buck should stop on their desks. But, given the brevity of the tournament, don't bet on it.