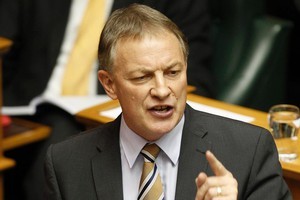 If Phil Goff wants to play politics with the Christchurch earthquakes, that is his prerogative. A year on from the first shake with the timetable for rebuilding the city still seemingly in limbo, it would be surprising if the Labour leader did not start asking some hard questions.
But - and it is a big "but" - it was a bit rich for Goff to criticise the Government yesterday for not making fast enough progress towards restoring some degree of normality to the lives of the citizens of Christchurch when Labour has yet to outline its stance on the crucial question of how much compensation should be paid to those people in the city's red zone who have to move out of their houses.
That everyone is still none the wiser about Labour's position did not stop Goff yesterday highlighting the case of a woman who had lost more than $100,000 in equity in her home because of the way the Government was calculating compensation.
The Government's compensation scheme is based on 2007 housing valuations undertaken by Quotable Value and does not include subsequent improvements such as a new kitchen or bathroom.
Earthquake Recovery Minister Gerry Brownlee originally indicated that such modifications would be included in offers of compensation. He admitted last Sunday that he had made a mistake.
Goff rounded on Brownlee yesterday, saying the minister had committed "the unforgivable sin" of raising expectations only to later dash them.
When asked whether a Labour government would make up the shortfall, however, Goff would not say. He said his party was working on a policy which would be "both fair and affordable".
How much fairer will be interesting to see given the consensus that National's offer is at the top end of such compensation payments in historic terms and, at the same time, Labour is eschewing any big-spending election policies.
As to when Labour's version would surface, there was likewise no clear answer from Goff beyond saying some time in the 10 weeks left until election day.
And Labour wonders why it is rating so poorly in opinion polls.