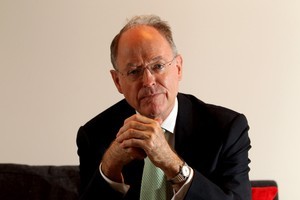 Brutal in design, callous in execution, yet absolutely necessary - that must be the verdict on the Night of the Long Knives-style purge exercised by Don Brash and the rest of Act's hierarchy in their compilation of the party's candidate list.
As was the case with his brazen challenge back in April to Rodney Hide's leadership, Brash has again revealed a truly steely streak of ruthlessness in trying to purify Act of its recent past.
He and the rest of the party's board have not wasted an opportunity to demonstrate that, in terms of personnel at least, Act is a very changed beast from the one on display for the bulk of this parliamentary term and which was racked with disunity and scandal.
Only seven names on the party's 2008 list have made it on to the 27-strong list for this year's election.
As one of those seven survivors fittingly observed, this is the end of Act One and the start of Act Two.
Alongside changes to the party's management and campaign staff, Brash effectively leads a new party.
New wine, same old bottle, however. Brash may have employed the political equivalent of industrial-strength cleaning agents to bring a shine back to the tarnished Act brand. The trouble is the product in question may be beyond such repair, at least before this year's election.
Rodney Hide's Act toyed with centre-right voters' patience too many times. As Brash is discovering - Act is rating a miserable 1.2 per cent in today's Herald-DigiPoll survey - if voters feel they have been badly burned by a party or are simply sick and tired of its antics, they tend to take the phone off the hook whoever may be calling.
One thing for which Brash should be grateful is that the innocent victim of this clear-out - the Dunedin-based MP Hilary Calvert - has taken her dumping from the list and therefore from Parliament with incredible grace.
She only came into Parliament last year as the replacement for David Garrett, who exited in disgrace. She was not party to the debilitating factional squabbles within the Act caucus. She was the casting vote which forced Rodney Hide to step down and hand the job of leader to Brash.
So what value is put on loyalty in a Brash-led party? Not much, it seems. Calvert may have been a sacrificial lamb given lingering divisions within Act's board following the toppling of Hide. Persuading her not to run may have been required of Brash to balance concessions made by others elsewhere in the party.
The least the leader could have done is phone her ahead of Sunday's announcement. Loyalty is a two-way street in politics. Brash's treatment of Calvert as someone disposable invites the inevitable day when he is run over by a heavy stream of traffic coming the other way.