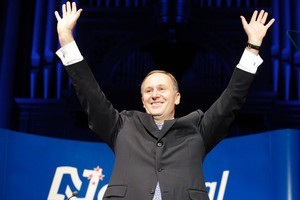 You would have found more signs of life in an ancient, long-sealed burial crypt than could be discerned during the greater portion of the National Party's dreary weekend conference.
It was not until the final item on the agenda that the 600-plus delegates finally stirred from their torpor.
The announcement in the Prime Minister's keynote speech that unemployed 16- and 17-year-olds, along with 18-year-old parents, will no longer be allowed to spend their benefit as they choose was greeted with loud cheers, piercing whistles, stamping feet and wild applause.
The introduction of something equivalent to food stamps is part of National's new tough-minded approach to reversing the tide of young people progressing directly from school to the dole queues.
The policy has "winner" stamped all over it - at least in electoral terms. It will find favour with many middle-ground voters turned off by Labour's capital gains tax.
It is the kind of policy that a lateral-thinking Labour Party should have been promoting to confound its critics and shed once and for all its lingering image of political correctness in order to recapture some of the huge number of male voters who have switched to National.
John Key has been smart in picking "disengaged youth" as the first target of National's intended shake-up of the welfare system. Few will quibble with the policy's carrot-and-stick approach to trying to prevent young lives being blighted by years on the unemployment scrapheap.
The policy, which includes greater obligation to participate in job training programmes, has many more innovative components than just turning a portion of benefit payments into food stamps.
With intensive case management planned for young unemployed, greater access to childcare so teen parents can go back to school, plus adults undertaking mentoring roles, the policy does not come cheap.
But National has finally wised up to overseas experience of welfare reform - that to save money in the long term you have to spend more in the short term.
The Prime Minister has been smart in taking a gradualist approach to that reform. Yesterday's announcement was the first of a number of intended changes to be revealed before the November election.
That way National can guarantee publicity for each change while still testing the waters to assess the amount of change swinging voters are willing to accept.
Key's speech was a life-saver for a conference otherwise devoid of ideas and debate.
The image-conscious, risk-averse organisers of National's annual get-togethers have long ensured the two days' proceedings are tightly scripted and carefully choreographed.
Their fear that debate on the conference floor is but a short step away from dissent meant this year's affair - coming less than four months before the election - saw the application of even more cosmetics.
This was a conference coiffured, manicured, pumped full of Botox and then covered in bubble wrap for its own protection.
That proceedings were wrinkle-free, however, was more down to the agenda being filled with a lengthy series of largely dull speeches from a succession of Cabinet ministers.
One of National's founding principles is freedom of speech. It is a pity the party did not celebrate its 75th birthday by allowing more of that commodity to find voice from the delegates on the floor of the conference.