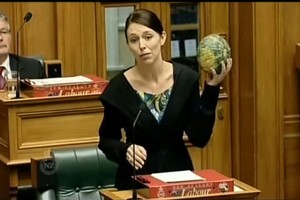 "We thought Community Max was a bit of a lemon, but it turned out to be a pumpkin."
Ha, ha.
Phil Goff yesterday cracked what is likely to be the worst political joke of the year. In doing so, however, the Labour leader hit the nail firmly on the head.
Without TV3's discovery of a lone pumpkin on site, allegations that nearly $320,000 has been wasted on a Community Max project in the Far North would have been another story about another failed job scheme.
Regardless of the veracity of the story, the pumpkin added a quirky touch, meaning the tale is now etched into public consciousness.
The Government did its best to paint a different picture, repeatedly saying the gardening project had wound up in July last year and TV3 had turned up eight months late.
Unfortunately for National - especially Social Development Minister Paula Bennett - the pumpkin had taken on a life of its own.
"Cinderella," cried Labour MPs intermittently in Parliament. The party's new employment spokeswoman, Jacinda Ardern, had even brought a fine specimen of genus cucurbita to the House, prompting National's Gerry Brownlee to quip: "Jacinda's waiting for midnight."
But fortuitously for Bennett her golden coach had arrived in the form of a long-booked flight to Washington which left before the story surfaced on Monday evening.
In her absence, colleague Simon Power - who exudes the persona of a Prince Charming - was chosen to field questions on her behalf. He told the House that around 70 per cent of the Community Max programme "graduates" had not gone back on to any benefit.
He then tried to put his tormentor, Labour's Annette King, on the spot, by recalling two gangs in Timaru that received money through a pilot employment scheme and used it to upgrade their headquarters while she was Minister of Employment.
The fact that this occurred way back in 1989 was drowned out by the cheers and laughter of Power's colleagues.
There was more to come. Power cited statements from no fewer than four Labour MPs in recent months expressing what sounded like support for Community Max. National's research unit was working overtime.
Ardern - one of those MPs - sought to drag Power back to the matter at hand. "Why has [Bennett] spent more than $300,000 on a garden that has left participants unemployed and produced just one pumpkin?"
But Power had not finished raking over history, reminding everyone of the Labour Department's funding of a $26,000 worldwide trip for two women to study hip-hop which took place when Labour was in power.
Power made a good fist of covering for Bennett. But for all the fun had in Parliament's version of the pumpkin patch, there was a distinct feeling of deja vu.
No matter how successful taxpayer-funded job schemes may be, any accompanying failures are what grabs the attention, whacking the Cabinet minister responsible for them in the process.
Bennett, who has managed her portfolio for the past two years without making any huge howlers, now knows she is not exempt.