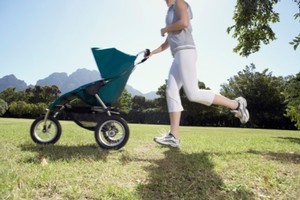 Even though she's yet to take her first wee baby steps my daughter is a regular runner. It is literally a case of "madam, your Chariot awaits".
While I'm bouncing along the pavement, she's riding up front with her toys and snacks in the comfy running pram, complete with suspension and 180 degree views.
It was my one big running-related purchase. As a parent you quickly discover your time is not your own.
Exercise is often the first victim of time poor parents as it takes real dedication to get in a regular sessions.
What's often called for are early morning runs, commuting to and from work on your feet or getting out after the littlies are tucked up in bed.
Sometimes it means grabbing the kids and taking them with you, like the woman I saw running in the park the other day with her son on the bike beside her.
I realised that in order to get out the door regularly I was often going to have to have the kids with me too.
Ironman competitor (and HR manager when he's not training) Matt Fillmore uses his running buggy to take his son out for his long, slow pre-season training runs.
"It's time I get to spend with him. He actually loves it, looking at something different all the time," says Fillmore.
Fillmore's training route takes him along the Tamaki Drive waterfront, up through Parnell to Remuera, before looping back to home through Glendowie to Kohimarama.
Given that his run will take around two to two and a half hours, Fillmore says the pram comes in handy to store his food and water.
"It only really adds about 10 to 15 seconds a kilometre on to my time and the [pram] I've got doesn't really alter my running style a lot."
As an aside, in his late 20s Fillmore was a 120kg health hazard. Warned by his doctor to lose weight or spend a lifetime on medication he decided to do an Ironman, the endurance triathlon made up of a 3.8km swim, 180km bike, rounded out with a marathon run.
The impetus came from barely recognising a fit and lean bloke at a friend's stag do. His old rugby mate put his new trim look down to a just-completed Ironman.
Now 34 years old and weighing 79kg Fillmore is just six weeks away from competing in Ironman number five.
Now, back to the strollers.
How is a running pram different to the regular prams on the market?
The big 20 inch wheels are the first thing you'll notice. The front wheel is locked in place to keep it tracking straight and often they'll come with suspension to keep the ride smooth for bubs as you run along.
All this makes for easier running too. Even though my Chariot is a bulky beast - it's not ideal for getting around the shops - it zooms along once you're running. In fact the safety wrist strap and hand brake on the handle bars are essential for downhill stretches.
Inside the roomy capsule bubs has her head cradled in a padded headrest and harness, with food, toys and drinks all within reach. I did also wait until she was around seven months old before starting when I felt she, as well as me, was physically up to the jogging.
Generally I'm running with just one hand on the handle bars, switching them over every now and again, with two hands for the uphill pushes. Even with a featherweight 8kg baby there's no denying it becomes an extra workout when pushing a pram.
I tend to take my stroller runs a bit easier, stopping to chat with my baby and checking every so often if she needs something to eat or drink.
Before buying a running-specific stroller I had used my regular three-wheeled buggy for runs when my son was a baby. But after a while I found it was started to develop an unnerving rattle and a wobble in the front wheel. In the manufacturer's defence it specifically warns against using its buggies for running.
Anyone interested in buying one new may have to hunt around a bit, but second hand running buggies are regularly for sale on Trade Me.
Fillmore hasn't had any bad experiences with his stroller - but I have.
In a misguided attempt to placate baby during jungle hour - the period between four o'clock and whenever your little possum finally collapses asleep in their cot that is defined by anything from grizzling to a full scale tanty - I took her out for a run.
For 30 of the 33 minutes run she screamed. Loudly.
Be assured that al fresco screaming is just as torturous as screaming in the comfort of your own home, particularly when combined with the disapproving looks of strangers.
In other news:
* Recollections of Peter Snell running the first sub-four minute mile in New Zealand 50 years ago
Events:
* Run 26km through lava fields, alpine tussock and beech forest from the Rangipo Desert to the Chateau Tongariro. 13km and 6km options also available. Saturday, January 28
* The James Mountain Marathon ups the ante with a 46km mountain run in the hills behind Hamner Springs. Saturday, January 28
- HERALD ONLINE