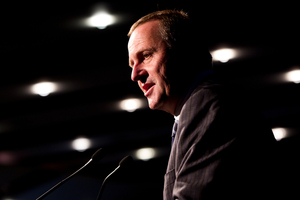 On Shobutahama beach, the waves gently caress the foreshore.
A few surfers try for better luck at the far end of the bay; further out, fishing boats glint in the fierce sunlight. John Key and his party of officials try to look impressed. But there is really not that much to see.
While it is possible to imagine the terror of being buried under a 10-metre wall of water, the only clue to what happened on that Friday afternoon in March last year are the mountains of sand, rotting vegetation and rubbish.
Much of the debris has been cleared away since March 11. It is going to take a lot longer to remove the emotional debris.
The Great East Japan Earthquake killed more than 10,200 people with a further 1500 listed as missing.
A total of 92 people died in the fishing town when the tsunami struck.
Mr Key makes a short speech which touches the right bases. His visit is purely symbolic.
He has stopped off in Japan on his way back from Apec for two days to mark the sixth anniversary of New Zealand-Japanese diplomatic relations.
Predictably, he agrees the tsunami and the Christchurch earthquake have strengthened relations.
Barring the long-running argument over whaling, the relationship has always been strong even if New Zealand would like to see a cut in Japan's punitive food tariffs.
Mr Key's visit is much appreciated by the locals, however. As a Ministry of Information spokesman points out, the biggest worry of residents is that the world has moved on too easily from the cataclysm of March 11. The visit is topped off by a memorial service for the dead. The speeches are worthy, but predictable.
Then the Japanese-based kapa haka group Nga hau e ha take to the stage. The haka is complemented with a rendition of Pokarekare Ana. It is a long way away from the feudal aristocracy of the samurai. Suddenly we seem a lot closer.