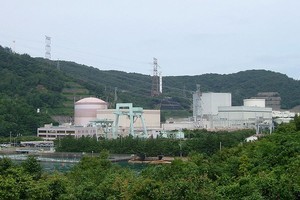 A radioactive substance leak from fuel rods is suspected to have occurred at another nuclear power plant in Japan, Kyodo News is reporting today.
It's occurred in Tsuruga, the Fukui prefectural government said, citing a rise in the level of radioactive substances in coolant water.
The operator, Japan Atomic Power Co, says it will manually shut down the No. 2 reactor of the plant on the Sea of Japan coast and examine its primary cooling system.
Local government officials denied to Kyodo News that the levels of radioactive substances could threaten the nearby environment.
According to Japan Atomic, 4.2 becquerels of iodine-133 and 3,900 becquerels of xenon gas were detected per cubic centimetre, up from 2.1 and 5.2 becquerels, respectively, during previous measurements conducted last Tuesday.
- AGENCIES