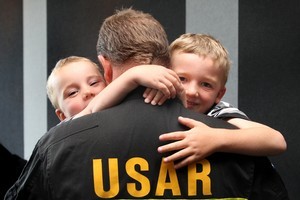 Seeing their families after a week of scanning the devastation in Japan moved tough Kiwi firefighters to tears on their arrival at Auckland Airport yesterday.
The 52-strong Urban Search and Rescue team walked into an airport lounge to applause and cheers, looking amazingly fit and ready for business.
Sleeves of their black overalls were rolled up; their working boots, though scratched and scarred, were cleaned and polished for the trip home.
Many had had only a few days' rest after the Christchurch earthquake when they were called to join the international rescue effort in Japan.
They were in the north of the country, trying to sleep in tents in tsunami-stricken Minamisanriku when it was minus 17C outside.
Scooping up an armful of children, Tauranga firefighter Campbell Cairns said the last weeks of tragic scenes had made him love his family more.
"I've hardly seen the family since February 22. I managed to get home for one weekend on a rotation ... I got home on a Saturday afternoon and I was gone to Japan on the Sunday."
His wife, Ronnie, said: "Though we have missed him terribly, we are proud he has been able to use his skills to help."
Pukekohe firefighter Jeremy Hull had a three-day break at home before he was reassigned from Christchurch to Japan.
His wife, Sarah, and two children aged 4 and 2 were often on his mind.
"You try to switch off but there's little triggers that make you think of your family so you try to keep in touch as best as you can."
Normal telephone communications were disrupted but Defence Force technical staff helped members call home.
Welcoming the team home, Auckland Fire Service regional manager Brian Butt, said: "It brings a tear to the eye to see the little kids running up to see Dad ... and the wives looking forward to you pushing the lawnmower around this afternoon.
"Thanks to the wives and families for the commitment you have made in the last month while these brave men and women have been in the field."
Auckland team member Richard Twomey said: "We have had huge support from our families. We're lucky they let us go. They sit home and worry about us."
Asked about conditions in Japan compared with those in Christchurch, Mr Twomey said: "I have seen nothing like it.
"If you took Christchurch and multiplied it by 100, you would be getting close.
"Coming down the valley to the scene [in Minamisanriku], it looked just like sticks, and when you got closer you saw [things] like schoolbags and personal belongings, and when you did get to the beach, there was nothing - 500 houses just gone, devastation on a massive scale.
"Standing on a hill under pine trees, we saw they were full of litter - up to 32m high."
Mr Twomey said the team had frustrations such as communicating in a foreign language, difficulty getting fuel and being held back from work by heavy snow.
The risk of radiation sickness was never on the team's mind, he said.
The Fire Service's national manager of special operations, Jim Stuart-Black, said the threat to the team from the nuclear emergency should be put into context.
"We were about 130km north of the [nuclear] site.
"We had monitoring every couple of hours where we were living and monitors on each crew at the work site, as well as back-up from the system in Japan and the New Zealand National Radiation Laboratory."
The team returned home because its role is to find survivors. Members retrieved only bodies.
Welfare and counselling services are available to team members, who are now on a compulsory stand-down from rescue work.
Fire Service chairwoman Dame Margaret Bazley said the team did a marvellous job and promised its support in the years ahead.