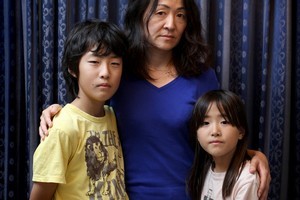 Japanese citizens in New Zealand are worried about returning home and are seeking ways to extend their stay here.
Immigration New Zealand says it will view each case "sympathetically" and use "common sense and empathy" in arriving at decisions to requests from people affected by the disaster.
Mika Sugawara, whose work permit is expiring soon, was booked on a flight last Tuesday to return to Japan, but did not go because the tsunami had wiped out nearly all of her home city of Sendai.
Now she is doing all she can, including enlisting the help of a local MP, to remain in New Zealand "for the sake of her children" because of radiation fears.
"My house is still standing, but everything else in town does not exist any more," said Ms Sugawara, a 47-year-old former psychotherapist and mother to 12-year-old Haruki and 9-year-old Ayane, who goes to Glendowie Primary School.
Her town, once home to nearly 20,000 people, is now just a muddy wasteland after the magnitude-9 earthquake and tsunami.
Friends at home are telling her they are struggling to get even essentials like food and water, and an unfolding nuclear crisis is causing radiation fears.
"My children are all I have to live for now, and there is no way I will take them back there knowing there is some kind of danger," she said.
Ms Sugawara has approached Labour MP Raymond Huo to write a letter explaining her plight to Immigration Minister Jonathan Coleman.
Yumi Nagai, whose work permit expires next week, says she would rather be a "safe overstayer" in New Zealand then "live in danger" in Japan. The 29-year-old preschool teacher comes from the seaside town of Rikuzentakata, which was also nearly wiped out by the tsunami.
She says many of her friends and relatives are without water, electricity, fuel or enough food, and is worried about radiation escaping into the atmosphere in the aftermath of several explosions at nearby nuclear plants.
"I was born in Japan, and there is where I want to live. But I think if I returned to Japan now, there is where I am going to die," Miss Nagai said.
Auckland Japan Society president Masa Sekikawa says there could be hundreds among the Japanese community in New Zealand who have been directly or indirectly affected by the tsunami.
"Some have lost family members and friends, others who know of friends who lost their loved ones. Everyone in the community is feeling the pain," Mr Sekikawa said.
"There is now a real fear of radiation and uncertainty about going home, and our society will support any Japanese national who feel it is safer to be in New Zealand in the mean time."
Acting Immigration New Zealand head Stephen Dunstan said the department had not received an influx of requests from Japanese nationals to stay here longer.
"We are reminding our staff of previous advice regarding requests for further visas from people who ordinarily reside in a country that has suffered a disaster," he said.
"In such circumstances we apply common sense and empathy."