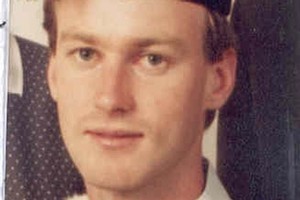 A Hawke's Bay couple are desperate for news of their missing son who they fear may have died in the Japan disaster.
Peter Setter, 45, is the only New Zealander in Japan who authorities have "significant concerns" about, following news another missing Kiwi, Steven Brooking, was found alive.
Mr Setter, who was born and raised in Waipawa, had not been heard of since last week's quake and tsunami.
His father, Brian Setter, said Foreign Affairs had been in touch with the family, and he and wife Lorrie had no idea about their son's fate.
Yet the Waipawa-based couple "hadn't given up", Mr Setter said.
"I understand the other missing Kiwi used a journalist's satellite phone to ring home, so it just shows that communication isn't great there at the moment."
"Yesterday was really the first day he really could have been able to get in touch anyway."
The Ministry of Foreign Affairs and Trade refused to confirm Mr Setter's identity, but said their inquiries focused on one Kiwi they feared was in the "affected area" when the magnitude-9 quake sparked a massive tsunami on March 11.
Mr Setter was visiting friends at the Japanese port city of Kesennuma, one of the worst-hit areas.
It was devastated by the tsunami and later ravaged by fire.
Mr Setter said his son did not have a cellphone, yet kept in touch weekly via Skype chats over the internet.
Peter Setter is the eldest of the couple's four children and was a former bio-technology university academic.
Due to illness about four years ago he adopted a "less stressful lifestyle" and worked at a variety of jobs in Asia and Australia.
Mostly based in Thailand for the past 20 years, he is married to a university professor and has a 15-year-old daughter.
Neither were travelling with him.
This morning the Ministry said there were still no confirmed reports of New Zealand casualties or injuries.
Government officials were considering whether to advise New Zealanders to leave Japan, as the nuclear crisis deepens in the quake and tsunami-stricken nation.
Mr Setter's mother, Lorrie, said she believed the radiation drift appeared not to be travelling towards her son's direction at Kesennuma.
"That's one good thing, but otherwise it doesn't look good," she told Hawke's Bay Today.
"If he survives this dreadful happening, we will have been truly blessed."
The couple, who had been glued to their television were being supported by family.
"I'm going through all the feelings but we're just hoping to get that phone call to tell us he's okay, and when we do it will be jubilation."
For more articles from this region, go to Hawkes Bay Today