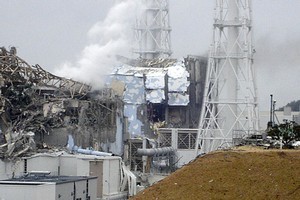 Emergency workers at Japan's stricken Fukushima nuclear power plant were forced to evacuate after radiation hit dangerous levels yesterday, while two New Zealanders were contaminated after landing near the exclusion zone.
Prime Minister John Key said an Urban Search and Rescue team member and an interpreter were in a Black Hawk helicopter forced to land 20km from a 30km exclusion zone around the station.
Mr Key said the men, with four Australians, tested positive for low levels of radiation when they arrived back at their base.
Mr Key said the helicopter had had to land because of ice on its blades.
The workers would remain in Japan, he said.
Japan ordered emergency workers to withdraw from its stricken nuclear plant yesterday amid a surge in radiation, temporarily suspending efforts to cool the overheating reactors.
Chief Cabinet Secretary Yukio Edano said the workers had no choice but to pull back from the most dangerous areas.
"The workers cannot carry out even minimal work at the plant now," Mr Edano said, as smoke billowed above the crippled complex. "Because of the radiation risk we are on standby."
The workers - a core team of 70 - had been regularly rotated in and out of the danger zone to minimise their radiation exposure. It was not clear last night if any had returned after the evacuation.
Helicopters were used for the first time last night to dump water on to the most troubled reactors in a desperate effort to cool them down.
United States nuclear expert David Lochbaum said he feared the worst.
"It's not like you wait 10 days and the radiation goes away," said the nuclear engineer, who now heads the nuclear safety programme for the Union of Concerned Scientists, an activist group. "In that 10 days things are going to get worse.
"[The evacuation is] basically a sign that there's nothing left to do but throw in the towel," Mr Lochbaum said.
A New Zealander yesterday spoke of his concerns for his family as they wait in their home 50km from the Fukushima nuclear power station.
Translator Graham Chave says he and his wife and two children are going "stir crazy" as the radiation threat forces them to stay inside.
Petrol rationing means they could only get 100km from their home.
"It's not a good thing, but we are not talking Chernobyl," he said yesterday.
"I've been watching the radiation levels and they haven't increased but all it needs is one big explosion and a wind change to make that happen."
Originally from Whangarei, Mr Chave added: "The kids want to go out to ride their bikes but they're staying inside and playing games."
He said Fukushima looked surprisingly normal, with many people going to work. The only thing out of the ordinary was the military helicopters overhead, delivering supplies.
"People are not freaking out. They're like: Well, we have gotten through natural disasters before and we will get through this one."
Mr Chave's family have electricity but are relying on family nearby who have a well for water.
Shoppers are queuing for an hour to get into a supermarket. His wife went to the petrol station and was given a piece of paper with number 137 on it. She waited two hours to get petrol.
Petrol is being rationed to about 20 litres and Mr Chave said his family would be able to drive only about 100km from home before they ran out.
He said locals were stressed but were showing a "stiff upper lip" and community spirit.
"People don't know what to believe, there are conspiracy theories out there ... people are saying the evacuation zone is small because there is not enough room for everyone."
He said friends of his had been evacuated from towns near the coast and had only the clothes they wore.
"Some people are sleeping on cardboard under a sheet."
Asked if he had thought about getting his family out, Mr Chave said: "Maybe I should've done so, I don't know. I'm quietly confident that it seems to be under control and my wife is keen to stay unless we get the evacuation call."