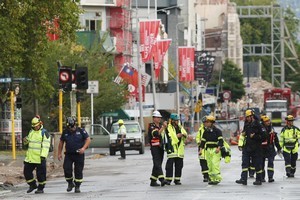 A New Zealand urban search and rescue team (USAR) will be based just 130km from an at-risk nuclear reactor in Japan.
Radiation has risen at Fukushima Dai-ichi nuclear plant today and there was an explosion there this afternoon.
Friday's 9.0 magnitude quake that shook northeastern Japan caused major problems at six reactors. But the danger is greatest at two reactors at Dai-ichi, where one explosion occurred on Saturday and a second this afternoon (NZT).
Mr Key said New Zealand's small advance USAR team arrived last night and the remainder of the group would land tonight.
Just over 50 people have been sent, 46 of them search and rescue team members and the rest support staff, such as translators.
"We have sought advice on the risks in terms of the issues involving the Japanese nuclear reactors," Mr Key told reporters.
"The team will be operating in an area about 130km from the reactor and they will be with the Australian Usar personnel. The team was given refresher training in managing and monitoring radiation exposure before they left and have taken protective equipment with them.
"I am satisfied that all necessary precautions are being taken."
The National Radiation Laboratory in Christchurch was consulted and was available to Usar team management.
The USAR team had spent time in the past three weeks in Christchurch, which was extensively damaged by a 6.3 magnitude earthquake on February 22.
Mr Key was assured that while the team had "worked its guts out" and may be tired they were confident they could do the job.
"I am advised that in sending this team we are not leaving New Zealand vulnerable in terms of our ability to respond to emergencies here. Japan responded quickly last month to the Christchurch earthquake and the New Zealand Government is very happy to provide whatever assistance we can to Japan at this time of need."
Labour leader Phil Goff expressed sympathy and condolences for the loss of life in Japan.
"Hour by hour the situation seems to be deteriorating in Japan."
The death tolls was rising and there was massive concern about nuclear reactors.
"I am very pleased that we are sending a Usar team, I think that's really important. It reciprocates the immediate support for New Zealand by Japan and this time of course we are dealing with a tragedy on a much larger scale."
- NZPA