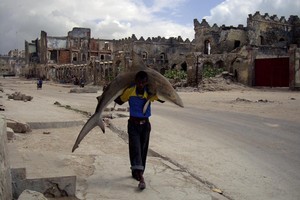 What will 2010 be remembered for, as presented by the annual World Press Photo exhibition? Death and destruction; mostly just death.
Well, you might ask, what did I expect? News often trades in unexpected, significant events. World Press Photo entries are judged on their news value (and creativity). Ergo, violent death in this competition is not surprising.
True; but the sheer volume of death on display at the Nathan Club at 40 Customs St East until October 9 - and relative lack of any other type of news - is overwhelming. It's as if the judges chose winners for their body count, and in categories which do not involve death - arts and entertainment, for example - they thought news value was irrelevant. (Art can of course inspire fatal conflict, or the end of it; but such work is usually removed from the arts ghetto news category at that point, and is considered "real" news.)
What is surprising is the near-absence of wars and homicide from the competition.
The one exception is Mexican drug violence, which is the reason we see a severed human head lying on the ground. But mostly the trends in generating loss of life on film this year are not battles and stonings, but volcanoes, floods, earthquakes and oil explosions.
So photojournalists can tint their work any colour they like - war one year, "natural" disasters the next - as long as it's mourning black. Death is always a winner.
Should it be this way? The World Press Photo competition is huge, and exists "to inspire understanding of the world through quality photojournalism".
Whether death-junkie news values are compatible with such understanding is questionable. Presenting the world in all its harsh reality is one thing (commendable in a forum like this); sensationalism is another. First prize in the "spot news" category shows what looks like a glowing statue falling from a church spire. Turns out it is some unhappy soul in Hungary, deliberately leaping to his death after setting himself alight for reasons unknown. Was this really newsworthy, or is it quasi-snuff entertainment?
On the other hand, I heard a couple of students debate whether showing a man in white overalls throwing a bloated child's body on to a heap of corpses after the Haiti earthquake was "gratuitous". They decided it wasn't, as the child was not identifiable. I agree; the image helps to show the ongoing psychological trauma of the aftermath of a catastrophe.
Meanwhile, in the exhibition's arts and entertainment section, we see Indian villagers watching open-air movies - an activity that's hardly novel, as they've done it for 60-odd years. We see Milan Fashion Week models pouting (yawn). Only the fabulous photographs of choreographed lucha libre fights of middle-aged Bolivian women in petticoats seemed newsworthy (females fighting is a recent development).
What "art news" could we have seen? Important art innovations are happening all the time. And there are always the controversies: for example, last year a Danish artist dressed her baby daughter as Hitler; a Van Gogh painting was stolen from an Egyptian gallery for the second time; and one of the biggest arts protests in two decades took place in New York to oppose the censoring removal from the National Portrait Gallery of a video by David Wojnarowicz relating to the Aids crisis.
Art is powerful, and not just a "human interest" filler. World Press Photo judges could work this out - if only they could snap out of their zombie-death trance.