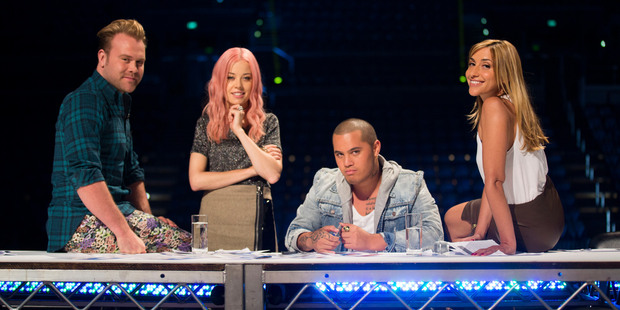 I have become addicted to The X Factor. I know this is wrong, because I am one of those old-school types who believes the proper way to make it in the music business is to form a band with your mates, be crap, play a lot, get better and, if you have talent and are lucky, you get noticed.
I should take action to cure myself of this burgeoning addiction but I fear it is too late.
And it isn't even the boys, girls, groups and over-25s of the competition that have me hooked - although I do have my favourites and ones I think are totally overrated (Moorhouse, I'm looking at you). No, it is the judging panel that have me hooked, hanging off their every pronouncement, every intra-judge tiff, and every time Stan says "Bro, you're a idiot" to Daniel.
But even with all this intrigue and these big personalities, there are times when my mind wanders and I wonder how some of the greatest musical acts of all time might fare standing in front of, as Dominic calls them, "your X Factor judges".
Judge Mel, who is here because she is the 3rd most famous Mel in pop music history, doesn't like guitars. If Judge Mel dies and goes to hell - because that's where, it turns out, ex-pop singers go - her hell will be full of sensitive singer-songwriters, strumming. I wonder, therefore, how Judge Mel would deal with Jimi Hendrix.
"Jimi, I've got to be honest with you. I love the look - the hair, the scarves, the trousers. I mean, I really love the trousers. But the whole guitar thing, always with the guitar, y'know? I'd love to see you next week, if you're still here, without your guitar. You don't need a guitar, y'know, when you've got the trousers. If you were on my team I would tell you to set fire to that guitar."
Judge Stan is the homeboy judge. He is a simple, straight-up man who tells it like it is, which is why I think Judge Stan would have a huge problem with Ziggy Stardust-era David Bowie.
"Bro, I loved what you did tonight, you took it to another level, and I would buy your record and play it every day. But I gotta be honest, I don't get you, man. Are you in the boys team? Are you in the girls team? I get confused just looking at you. Bro, you need to find a team and stick with it. Apart from that, you was awesome."
Judge Ruby has pink hair like a strawberry icecream cone. And like strawberry icecream, Judge Ruby is sweet. This is why she would have difficulty with a band like Joy Division and their suicidally morose lead singer, Ian Curtis.
"It's not that I didn't dig the song because, yes, love can tear people apart, but do you always have to be so sad? Love is love, y'know, it's lovely. So if you're singing about love it should be about happy things too. Ian, would it hurt you to smile once in a while? The name of your act is Joy Division, so next week, if you're still here, I want to see you bring that joy."
Judge Daniel used to be the mad judge, who would say things and use words that had the other judges and Dominic Bowden looking at him going "WTF?" These days, though, the madness is confined to his clothing and he is repositioning himself as the judge who uses phrases like "A&R" to show that he knows what is truly needed to make it in the pop music business.
If the Rolling Stones were a boy band who ended up in the bottom two, I think Daniel would be right in his element.
"Look guys, I know that Mel really digs your bad boy looks. And I hear what Stan says about you being white guys with brown insides, even though that is kinda racist and a disturbing image. But if I was your A&R I would have big problems taking you to the market. Keith, you're all over the place - almost like you're on drugs. Charlie just looks bored. And Mick, I don't know if it's your lips or what, but you have huge diction issues - half the time I have no idea what you're singing. You were born in a what? A crossfire hurricane? That makes no sense. Which is why the act I am sending home tonight is ... the Rolling Stones."
And then the next week the last remaining boy band in the competition - The Beatles - do a version of Kanye's Black Skinhead ...
Actually, come to think of it, the version of The X Factor in my head is way better than the one on TV.