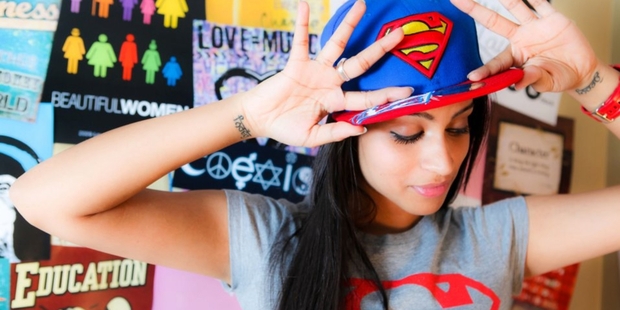 YouTube sensation Lilly Singh - or Superwoman, to her fans - is not scared to give people stick, so be prepared if you're heading to one of her shows this weekend.
The 25-year-old, one of Auckland Diwali's biggest attractions, has more than a million subscribers on her YouTube channel because of her mickey-taking videos based on her Punjabi background.
In many she dresses as her parents and reacts as they might to various situations in her life.
Speaking to the Herald this week, she said it was an honour to come to New Zealand where many of her fans were from.
"You know what, [New Zealand] is in my top 10 most subscribed countries. I was a bit taken aback, to be honest."
Singh grew up in Canada and lives near Toronto. She has been uploading videos on YouTube for the past two years, but has taken it up as a full-time job only in the past year.
Her success as an internet phenomenon sometimes still doesn't register with her, she says.
"When people come up to me and say 'you're my role model, you're the person I look up to and I wanna be like you' that's very humbling, but very shocking to me.
"I'm just somebody in my room who makes videos."
Singh was approached to appear in the city by Auckland-based Indian radio station Radio Tarana after a performance in Australia last month.
"I'm just going to be doing my standard routine and cracking jokes in the middle. I'm really spontaneous on stage. Sometimes I jump into the audience or call people up. I do have a set routine as well and I feel like a lot of my routine from Australia will also apply to New Zealand.
"When I'm on stage and I see someone in the audience or something happens, I do a lot of improv as well."
Singh has a psychology degree from York University - and jokes that it has no use for her present job.
"A lot of people say, 'oh it's because of your psychology degree that you give such good advice in your videos'. And I say, 'no, no it's not - at all.'
"When I was younger, YouTube didn't exist. But I always had a knack for creativity. I was always performing at weddings and dances and just doing something creative. One day I had an idea to record it and store it online ... When it hit a hundred views, I was ecstatic."
Singh will spend time meeting fans and sightseeing during her New Zealand visit.
A group of fans will win a chance to do the Sky Tower Sky Walk with the star - but she says she will be steering clear of New Zealand's ultimate dare - bungy jumping.
"I don't know if I would be brave enough to go bungy jumping," she laughed.
Singh said she hoped her audience would leave feeling loved and inspired.
"I feel like the number one message I do want to create is always one love. Even in the funniest videos, there usually is a message there of be yourself, one love, accept people, don't judge others."
Superwoman at Diwali:
Who: Lilly Singh, 25, better known as Superwoman.
What: YouTube sensation.
Where: Performing two shows at the Herald Theatre, Aotea Centre, at 12.30pm on Saturday and 11am Sunday.