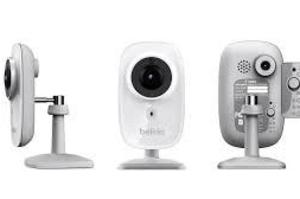 Not so long ago we adopted a dog, and like many pet owners, I was curious to see what ours got up to when we weren't around. There were lots of different network camera options out there, but our doggy cam needed to be good at several things if it was to earn a place in my home.
• For a start it needs to be easy to set up. I've played with many network cameras before, and really don't want to deal with arcane web setup pages or router settings.
• Being unobtrusive was also a biggie. Having a huge widget with flashing notification LEDs plastered all over it would not only spook our dog, but would also be difficult to place in our lounge.
• A wide angle lens is also a must as it must be able to cover an entire room.
• It should also work in low light conditions on dark winter mornings and evenings, so a night vision mode is a must.
• Above all, it also needs to be secure and reliable. Anything that isn't set and forget simply won't make the grade.
Look and feel
Enter stage left, Belkin's NetCam HD Camera with Night Vision. Done out in the usual netcam white plastic, it sports a wide angle lens which is surrounded by infra-red LEDs as well as a microphone on its front. Spin it around and there's not a lot to see on its rear apart from an Ethernet plug, a setup switch, power socket and several indicator LEDs.
Like most other network connected cams, Belkin's beastie is attached to a swivel base (which could do with being a tad bigger as I managed to tip the camera over several times while positioning it). This said, the base has screw slots and screws are bundled, which means it can handily be mounted to a wall or other surfaces. Although it has an Ethernet port on its rear, you don't need to cable it as it'll also play nice with 802.11 b/g/n WiFi.
Setup
Getting set up was also a pleasant surprise thanks to a simple 5-step setup card in the box and a downloadable app for my iPhone (Android is also handily supported). This conveniently meant I didn't need to muck about with router settings, or earn an advanced degree in computer science to deal with anything remotely complex. After installing the free Belkin NetCam app on my iPhone, I flipped the switch on the back of the camera to the setup position and connected the AC adapter. Firing up the app I was then taken through a relatively painless setup process that took all of five minutes. After flipping the setup switch on the NetCam's rear back to camera mode I was good to go. Total setup time was under 10 minutes.
In Use
The Belkin Netcam smartphone app might be pretty basic, but the upside of this was that even I managed to get my head around it pretty quickly. Its main screen lists all connected cameras (to which you can handily assign different names as part of the initial setup process).
Once set up, you simply click on the camera's name to go straight to its live video feed. From the app you can toggle the camera's microphone and/or infra-red mode on or off, choose different video quality settings and even setup email notifications when the camera detects motion.
While watching live video view in the apps, you also have the option of taking a snapshot, or recording the video feed, all of which could prove pretty handy.
Thanks to a wide angle lens the Belkin NetCam was also able to give me a full view of my lounge. I was also pleased to note that unlike a lot of other netcams, its picture wasn't marred by fisheye lens distortion. This said, although its picture wasn't bad, sunlight entering my lounge windows did blow out the image somewhat.
The other key selling point with the Belkin NetCam were its infra-red capabilities, which allowed me to check up on the lounge even in the dead of night.
While I would have liked the ability to record a video snippet when the camera detects any motion or to even pre-schedule video recordings at specific time or dates, recording was frustratingly manual only.
Having said this, being able to remotely check up on my dog while I'm away was very cool indeed (it turns out that ours spends most of its time on the sofa snoozing). I was also impressed by the fact that it was able to notify me once it had detected any motion within its field of view. The notifications are sent via email. This sounds great in theory but the reality was that any plants moving outside our lounge window triggered a flurry of emails regardless of which motion sensitivity setting I tried. Thankfully this feature can also be disabled.
Having written what was shaping up to be a positive review, I frustratingly awoke to find that the iPhone NetCam app had somehow managed to forget all my login details. Because of this I was no longer able to view video footage, even though the NetCam was working fine the previous night. A quick trip to the Belkin support page showed me how to restore the camera back to its factory state, and running the NetCam app setup fixed things for 10 minutes until the mobile app once again forgot my login details and it was back to square 1. Bizarrely logging into the Belkin NetCam web portal showed the camera was working fine which probably indicates that the Belkin IOS app was probably released prematurely and needs to be thoroughly debugged.
Verdict
There's a lot to like with the Belkin NetCam. I really rate that it is dead easy to setup and has a decent wide angle lens with night vision capabilities. Being able to operate multiple cameras is also a real bonus. A potential deal breaker however is the IOS camera app which can be best described as flaky. If you're looking for a netcam to keep an eye on things, and don't want a complicated setup process the Belkin NetCam is worth a look, but there are reliability issues that Belkin really needs to address.
Tech Specs
RRP$ $159.99
WiFi Support: 802.11b/g/n
Video format: H.264/MP4
Resolution: 1280×720, 640×360, 320×180
Frame Rate: Up to 25FPS
Still Image Capture Resolution: 720P
Lens Focal length: 3.0mm, F2.0
View Angle: Horizontal: 78°, Vertical: 45°, Diagonal: 90°
Night Vision: 8 IR LEDs, 850nm