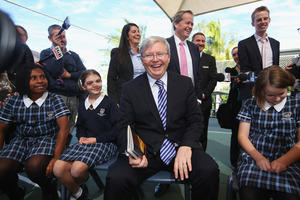 It used to be dodgy pamphlets and misleading how-to-vote cards. Now political dirty tricks have caught up to the 21st century, with a Liberal candidate for the September 7 election claiming Labor is lying about him on Twitter.
Andrew Southcott, who holds the marginal Adelaide seat of Boothby by a whisker, told ABC yesterday that Labor had falsely tweeted that he was in Fiji: "The tweets are designed to damage and it's certainly a false claim."
From top to murky bottom, social media and the internet are being enlisted for the campaign to a degree never before seen in Australia as strategists impressed by United States President Barack Obama's domination of cyberspace try to work the same magic Downunder.
Traditional media has also pulled Twitter, Facebook and YouTube into its orbit, monitoring sites and tweets in what has become an integral and essential part of its election coverage.
Prime Minister Kevin Rudd gave a sharp lesson on its importance on his way to Government House on Sunday to inform Governor-General Quentin Bryce of his intention to call the election.
About 20 minutes before his official announcement, he tweeted the date.
Rudd has also hired three of Obama's social media gurus - former Democratic National Committee executive director Tom McMahon, British expert Matthew McGregor and American consultant Joon Kim - to guide his cyberspace strategy.
The lessons from last year's US presidential election have been taken to heart in Australia.
Obama used social media to reach a record number of voters, building a grassroots movement that encouraged supporters to pass on news, uplifting stories and views to friends.
Candidates also used the sites to reach into local communities.
It was a vast field. Lee Rainie of Pew Research Centre's internet and American Life Project estimated that half of Americans use social networking sites and that more older people are turning to them.
Social media monitoring site Hootsuite, which is also tracking the Australian election, found that Obama maintained a substantial lead over rival Mitt Romney in Facebook likes and Twitter.
"The most important thing that we see in our data is that the internet strategy and social media strategies now are very tightly integrated with all of the other communications strategies of the campaign," Rainie told the Foreign Press Centre in Washington.
Similar conclusions were reached in Australia by researchers Theresa Sauter and Axel Bruns of the ARC Centre of Excellence for Creative Industries and Innovation at the Queensland University of Technology.
"Social media and traditional media are seen as increasingly integrated with each other as tools for political news reporting," they said. "Social media are no longer the story, but have become key tools for telling the story."
Evelyn Tsitas, a PhD student at Melbourne's RMIT University, said in On-Line Opinion that with almost half of Australia's population owning smartphones, politicians had fertile ground for cyberspace lobbying - and that Rudd was so far well in front.
She said that while Labor and Liberal each had about 30,000 Twitter followers, Rudd's followers numbered 1.3 million, against Opposition leader Tony Abbott's 150,000. The Greens have 11,000 Twitter followers.
As politicians ramp up their cyberspace messages, traditional outlets are also embracing social media. Most major news sites run live Twitter feeds and rolling coverage, and stream live television.
The ABC has VoteCompass, devised by Canadian academics, which used an online survey to match opinions to parties. Launched this week, it has already had about 280,000 responses.
News.com has a spend-o-meter monitoring spending promises, and lists social media sites and politicians' Twitter addresses, as well as running selected tweets.
Fairfax sites smh.com.au and theage.com.au run Yourview, inviting votes on major issues and collating the results, the online Guardian Australia has an interactive policy site, and the academic site The Conversation includes an election fact-checker.
Election snapshot
Kevin Rudd:
The Prime Minister received a lukewarm welcome in his Brisbane electorate of Griffith where he was debating his Coalition challenger. Rudd later received a much walmer welcome from the students of the Adventist college who chanted his name. He attended the opening of an exhbition at the Australian War Memorial.
Quote: "I haven't got everything right but you know something, I've got a few things
right"
Tony Abbott:
The Opposition Leader and his wife Margie drank tea and munched on ginger bread men on the back deck of a family home in Dobell on the NSW central coast. He attended the exhibition launch.
Quote: "We are not going to chloroform the economy"
Sites to watch
Monitoring politics in cyberspace:
* abc.net.au/news
* smh.com.au
* news.com.au
* the conversation.com.au
* topsy.com
* blog.hootsuite.com/australian-election-tracker