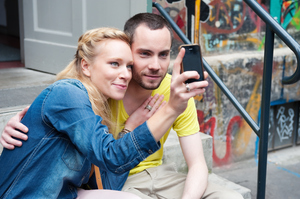 It was hatched as a Stanford University design project barely two years ago. But now Snapchat, the photo-sharing app which allows users to send images which self-destruct within 10 seconds, is taking a bite out of Facebook after its valuation soared to US$800 million ($1.03 billion).
The service offered by Evan Spiegel, 22, and Bobby Murphy, 24, the latest darlings of the start-up social media sector, is intentionally fleeting. Smartphone users send photos or video clips to friends which disappear within 10 seconds or less after being viewed, and are then deleted from servers.
Teenagers immediately embraced the app, which was launched in 2011, as a fun new way to communicate, without leaving a trail of personal information. Now more than 200 million images are snapped globally each day, up from 60 million in February.
The apps hyper-growth rate has been compared to the early days of Twitter and Instagram.
While Snapchat deals in the ephemeral, the entrepreneurs behind the app are attracting heavyweight backing despite its having yet to make money.
Snapchat has raised US$60 million in its latest round of funding from Institutional Venture Partners, General Catalyst Partners and SV Angel. Michael Lynton, chief executive of Sony Corp US and Sony Pictures Entertainment, will join its board.
It also secured US$13.5 million of venture capital backing in February, and analysts now value it at around US$800 million, up from US$60 million earlier this year.
Mark Zuckerberg, the Facebook founder, is among Snapchat's millions of users.
But when Facebook launched a rival disappearing-photo-messaging service, Poke, it failed to make a dent in Snapchat.
Snapchat now has a higher valuation than the US$715 million which Facebook paid to acquire the image-sharing service Instagram, which transmits 40 million pictures a day.
Spiegel and Murphy, described as Stanford frat boys, developed Snapchat in response to a series of US scandals over politicians caught sexting. They asked: What if embarrassing photos could instantly expire once viewed?
Fellow students were not impressed with the model the pair presented in a design class so Spiegel quit school two years ago and worked on the app from his father's house in Los Angeles.
Snapchat, which employs 17 staff, is based in a house in Venice Beach. Just as Facebook's contested origins became the subject of a film, The Social Network, Snapchat's founders face a legal battle.
In February, former classmate Frank Reginald Brown IV filed a lawsuit against Snapchat and its co-founders, alleging that he came up with the idea and worked on the app but was frozen out after falling out with his friends.
The company has declined to comment on the lawsuit.
Snapchat now needs to produce money through its operation, through in-app purchases and mobile advertising.
Spiegel said: "We've been able to support the growth of Snapchat with minimal overheads.
"But in order to continue scaling while developing the Snapchat experience, we needed to build a bigger engineering team and figure out how to pay our server bills."
- Independent