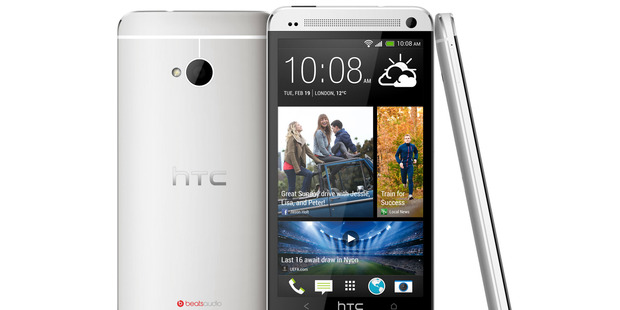 Samsung and Apple may generate more than a little hype when it comes to launching smartphones, but if I were them I'd be more than a little worried. There's a new phone in town from HTC that combines stunning design and a great spec. Clearly HTC aren't going to take any prisoners in this latest round of the smartphone wars.
Look and feel
Powering up the HTC One reveals a drop dead gorgeous full HD 1080 x 1920 4.7 screen with an eye watering 468pixels per inch. The words razor-sharp and eye-popping spring to mind when describing it, but it really has to be seen to be believed. Upon springing to life the HTC One also emits a loud start up chime, hinting at the audio goodness baked in.
Having handled my fair share of high-end smartphones, the design of the HTC definitely impressed. Whilst I could prattle on for hours about it, the reality is that it is stunning in the hand. Where other Tupperware laden smartphones feel like a Bic ballpoint, the HTC One is the smartphone equivalent of a Mont Blanc fountain pen.
Thanks to a convoluted manufacturing process HTC invented, the HTC One has a body that is 100per cent aluminium, with seamless white polymer accents. About the only things missing are a walnut dashboard, leather trim and chauffeur. The design is literally that good. Form factor-wise, the One feels slimmer than its older sibling, the HTC One X. The use of premium materials and a svelte form factor don't mean the One is lightweight either, it packs a decent amount of heft that hints at a premium build quality.
Several other clever design notes and features are also present on the One. The solid alloy volume control on the right-hand side of the phone adds a hint of polish to an already sophisticated design, whilst the power button on the top of the One also does double duty as an infra-red port (more on this later).
About the only problem I've noted with the One's design so far is that even though it's sufficiently streamlined to easily slip in and out of a pocket or purse, it's also slippery. Thankfully the One is also fairly solidly built and survived one or two drops onto our wooden floors.
Under the hood
Tucked away beneath the One's gorgeous exterior is a Quad-core 1.7 GHz CPU, 32 or 64GB of RAM plus Android Jelly Bean. Things get even better with the addition of 4G, 3G, Bluetooth, Wi-Fi plus a shiny new version of HTC's Sense user interface.
Audio-wise, HTC are still making use of Beats Audio when the One is hooked up to headphones, and there's also the rather nifty addition of what HTC have branded Boomsound. A clever dual driver design and some hoopy digital audio processing enhancements mean that for a little device, the One delivers some surprisingly big audio.
Usability
HTC has redesigned their android interface (branded Sense) and the HTC One is the first phone to showcase their efforts. Taking a leaf from Windows Phone and iOS, there's new layout, and decorative widgets of previous HTC android phones have made way for simple and clean status indicators and icons. In use it proved to be clean, simple and uncluttered, quickly growing on me.
Central to the new look and feel of the One's interface is BlinkFeed. Which bears more than a passing resemblance to the Live Tiles of Windows Phone. In a nutshell Blinkfeed provides and at a glance overview of messages, social media and cool Zoe video pix that resemble the newspaper photos used in Harry Potter (e.g. they're animated images that morph into a photo).
In practice I found BlinkFeed worked better than I thought it would. As with Windows Phone, I loved being able to just pick up my phone and see what was happening without having to fire up any applications. This said, when I tapped a picture or social media feed, the One displayed them using a slick reader-style app which loaded pretty quickly.
Although I did miss the gorgeous clock and weather feed in earlier HTC handsets, it is given a nod in that a simplified clock and weather icon is displayed at the top of the screen. I found the Blinkfeed interface both intuitive and pleasant in use.
Camera
Critics may quip that the One's camera is 'only' a 4MP. HTC however have used a lower resolution sensor but one that has much larger pixels to capture more light, which in theory should make photos look great.
An upside of this approach is that the One's camera is really responsive. Shutter lag was almost non-existent. That said, if there were a lot of other apps running the One would pause before photos were dumped to memory.
In use the camera was well specc'd. As with the HTC One X exposure, contrast and sharpness and shooting modes were all accessible from the camera's main menu. The front facing camera has also been given an upgrade to 2.1MP which makes for passable selfies.
Video can also be captured in HDR mode which makes for some surprisingly good looking shakeycam shooting. In terms of low light capabilities, Nokia still has the lead with Pureview, but the One still shot some great low light pictures.
Interestingly the One also shoot photos in 16:9 instead of the now quaint 4:3. I can't remember the last time I got photos printed, but frequently browse them on my 16:9 TV so this feature made several metric tonnes of sense.
Zoe
This bizarrely named feature is probably something you'll be hearing more about in the near future and is a shooting mode that takes a brief burst of HD video footage before you press the shutter button as well as three seconds afterwards, so you get a really cool 'moving photo' effect just like the newspapers in those Harry Potter movies. It's a quirky, fun trick that looks really cool once the photo gallery app fills up with lots of animated photos.
As fun as Zoe is to use, being on the receiving end is a tad unnerving so instead of merely posing for a snap, you've got to do something for three seconds. Not a biggie but it does take some getting used to. Nicest of all however is the HTC One's ability to auto-create a short video based on the date or even location of photos.
Battery
Packing a sizeable 2300mAh battery and more energy efficient processor onboard as well as a supposedly more power management capable version of Android 4.1.2, I had great expectations for the HTC One's ability to wring every last drop of battery life before curling up its digital toes.
On standby the One's energy management features (mobile data enabled, no Bluetooth, GPS or Wi-Fi), I was pleased to see that the battery charge barely changed overnight, even though the phone received emails and downloaded some application updates.
In day to day use however (Wi-Fi, Bluetooth, GPS and mobile data all enabled and the screen set to maximum brightness) battery dropped noticeably. Similarly, playing with the camera to shoot Zoes took a big chunk out of battery life. This said, as long as the One was charged at night, a full day's use was never a problem.