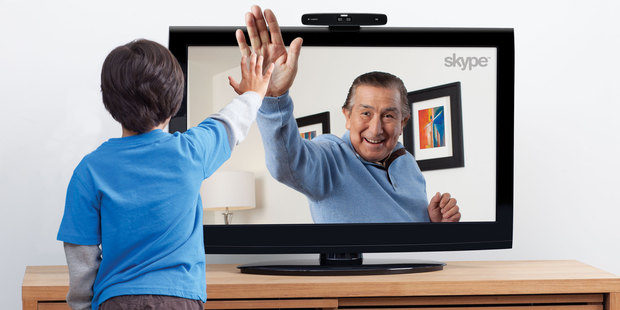 There's still nothing quite like seeing a loved one as you chat to them. Trouble is that doing either required you bust out a substantial pile of cash on a full-on video conferencing suite, or make do with a low-fi webcam. Thanks to Logitech, the Jetsons like prospect of a working, decent quality video phone is now within reach. Best of all, you don't need to be a rocket scientist to make it happen.
In fact all you need is a broadband connection and a TV with a spare HDMI connection. The camera has all the Skype bits baked in, which means it is pretty much a plug and play proposition. In addition to a built-in version of Skype, the camera also comes with a small remote control for driving Skype and zooming in and out.
Getting set up
Getting up and running with the camera was criminally easy. The camera sits on top of most flat screen TVs and connects to a spare HDMI input. Pugging in the small power brick completed the initial set up. Switching the TV to the selected input revealed a camera set up screen where skype account details were entered using the remote and the default settings for the camera were configured.
The camera also had built in Wi-Fi and an Ethernet port for internet connectivity. In short getting set up was sufficiently idiot-proof that even I managed to get it right first time.
In Use
If you've ever used Skype on a PC, then the chances are good that you'll be instantly familiar with the Logitech Skype TV Camera. After setting it up and entering your account details in, Skype contacts are displayed. Initiating a call is almost as easy as changing the channel.
Because the camera is in effect its own standalone Skype phone, it also has a built in ringer so if someone decides to call you whilst you're watching the telly, you'll hear the camera ring and can switch the TV to the HDMI input the camera is connected to and accept (or reject) the call. You can also specify a no-call period so TV viewing (and sleep) remains uninterrupted.
Quality-wise the camera impressed. Even in our poorly lit TV room where most webcams struggle, the Skype TV camera delivered surprisingly crisp and well saturated video. By virtue of the camera's 4 built in noise and echo cancelling zoom microphones, audio was also pretty decent.
Verdict
Sometimes an idea comes along that just makes several metric tonnes of sense. The Logitech Skype Camera is definitely one of these. Not only is it dead easy to set up and configure, but it is also decently priced, (a quick check on pricespy revealing prices starting at $221). If you're looking for an easy way to stay in touch with less tech savvy relatives or if you're a small business wanting to video conference on the cheap, check out the Logitech Skype Camera, you won't be disappointed.