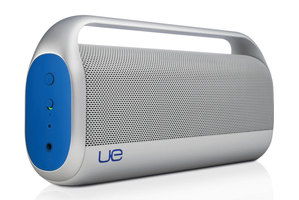 As a child of the 80's I for one was pleasantly surprised to hear that thanks to Logitech, the boombox was making its post millennium comeback. The word Boombox is pretty nostalgic for me and evokes visions of big hair, bigger trackies and breakdancing. However rather than doing the robot, or busting out a back-spin at the local mall, the engineers at Logitech have crafted the Boombox as a portable, Bluetooth speaker that sounds as good as it looks.
Look and Feel
The designers at Logitech have really got the Boombox right. Looks-wise it is a classic. Its shape and form may be reminiscent of the transistor radio my grandma owned, but the retro is replaced with chic that is all too rare in consumer electronics.
Like other design classics (such as the Dualit toaster, the Macbook Pro or the E61 Rocket espresso machine) the boombox balances form with function beautifully. It is simple sleek, curvaceous, and finished out of what appears to be a single chunk of brushed alloy, complete with less than subtle electric blue accents on each end.
Built purely to act as a battery powered speaker for audio streamed over Bluetooth, the Boombox is a great way to get music off your phone, iPod, Mac or PC and into your ears with as little fuss as possible.
Audio
Streaming audio over the Boombox for the first time was a revelation. My expectations were admittedly low but I was pleasantly surprised to discover that the Boombox batted well above its pint-sized form factor. This is in part due to a well-executed design that makes use of 8 speaker drivers (which consist of two woofers, two tweeters and four passive radiators) all of which combine to produce a surprisingly rich sound. Even though Bluetooth audio isn't something I'd choose to write home about, the Boombox produced crystal clear audio that wasn't over powered by shrill treble, or drowned by muddy bass and waffly mids.
This said, the Boombox won't alienate neighbours, demolish a room (or ones ear drums). While it wasn't made to deliver deafening decibels, it was still plenty loud enough, and cranked out clean undistorted audio, even when the volume was pushed close to 100 per cent. That I'd turned off all the equalisation settings on my phone also helped too. Logitech have also sensibly included an auxiliary socket so the Boombox will also play nice with non-Bluetooth enabled gear.
In Use
About the only real grizzle I'd have with the boombox isn't a biggie, but was nonetheless a source of frustration it didn't come with play/pause/skip controls. Whilst there was over-sized volume controls on one end, being able to skip tracks without fumbling for my phone would have really made a big difference.
Pairing the Boombox was seamless. Using multiple handsets and a PC, I experienced no connection hassles. It just worked. Similarly, the Boombox seemed to run on the smell of an oily rag. According to its specs, the Boombox battery should tap out after six hours of use, I however managed to get just over that at low volumes and just under that with the volume turned up (the Boombox made for a great BBQ companion).
Good battery life usually means a big battery. Add in eight drivers, an alloy chassis and the trade-off becomes weight. That's not to say that the Boombox weighs a tonne, but at a shade under two kilos you'll think twice about lugging it about for extended periods of time without first consulting a chiropractor. For most people this isn't likely to be an issue as the Boombox is easily portable for enough for room-to-room use, which is what I'd wager Logitech originally designed it for.
Verdict
It looks great, it sounds good, but then quality costs. Prices varied from just under $250 through to $347. You do get a lot for your money as the Boombox is sturdy and built to the standard we've come to expect from Logitech. If you're looking for a simple way of listening to music stored on a Bluetooth capable music player, the Logitech UE Boombox should definitely be on your shopping list.
Tech Specs
RRP: $249 - $347
8 tuned drivers2 x " tweeters
2 x 3" woofers
4 x 2.75" passive radiators
Connectivity: Bluetooth wireless (up to 15m away)
Battery Life: 6 hours of playtime